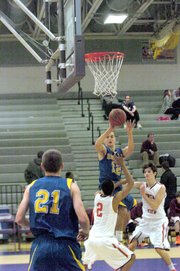 The Robinson boys' basketball team headed to the locker room with momentum at halftime of the Pohanka Chantilly Basketball Classic championship game on Dec. 29.
The Rams were strong defensively, limiting Mountain View to 25 points, and junior guard Jared Steen beat the buzzer with his second 3-pointer of the evening, giving Robinson a six-point lead.
As the second half progressed, Steen continued his sharpshooting and finished with five 3-pointers. The Rams' defense, however, failed to follow suit.
Mountain View (Stafford) outscored Robinson by 10 points in the second half and captured its first Pohanka tournament title with a 63-58 victory at Chantilly High School. The Wildcats scored nearly as many points in the fourth quarter (20) as they did in the first half.
"We stopped defending in the second half," Robinson head coach Brian Nelson said. "We played great defense in the first half. The things we did well in the first half defensively we did not do in the second half and Mountain View took full advantage of that. … I don't think we played anywhere close to our best in the second half."
ROBINSON DEFEATED Wilson (Washington, D.C.), 62-53, on Dec. 27 and knocked off South County, 72-67, in the semifinals on Dec. 28. After playing three games in three days, Nelson said fatigue could have been a factor for the Rams' second-half struggles against Mountain View, but the team couldn't use that as an excuse.
"Effort is [the] No. 1 priority," Nelson said, "and we didn't give that for 32 minutes."
Steen continued draining perimeter shots into the second half of the championship game. His final 3-pointer cut the Mountain View lead to 59-57 with 1:14 remaining in the contest, but the Wildcats held on. Steen finished with a team-high 15 points and was 5-for-13 from 3-point range.
"We're not going to hang our heads about this for a long time. We're disappointed that we lost, but we've got bigger goals that we need to accomplish this season."

--- Robinson boys' basketball coach Brian Nelson
"He hasn't shot the ball all that well so far this season," Nelson said. "He's a great shooter, but he hasn't shot up to his expectations yet this year. Maybe this is the game that kind of gets him going a little bit."
Steen's career-high for 3-pointers made is six, a mark he set last season.
"If I'm open, I'll shoot it," Steen said. "If it goes in or goes out, I'll take the next open shot I have. I can't think about the last shot [whether I] miss or make it. I have to have a clear mind."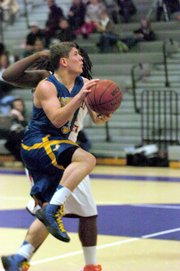 Senior forward Keegan Ruddy scored 14 points for Robinson and senior guard Nate Hackett added 10. Senior forward Nick Bynum grabbed nine rebounds.
"We didn't come out as intense as we should have," Hackett said. "We came out to start the game ready to play. In the second half, we were all lackadaisical and weren't ready to play. It seemed like everyone was slow and our defense wasn't up to par."
Junior guard Matt Fall and Bynum were named to the all-tournament team for Robinson. Fall averaged 13 points per game, including an 18-point performance against Wilson and a 15-point effort against South County. Bynum averaged 12 points per game. He finished with 25 points and 11 rebounds against South County.
Mountain View's Joe Wilson was named tournament Most Valuable Player. He averaged 16 points and 5.7 rebounds per game, including 17 points and six boards against Robinson. Mountain View's Ben Keller made the all-tournament team, averaging 13.7 points per game. He had 14 points against the Rams. Mountain View's Tyrus Mason had 16 points in the championship game and Tyrell Mason had 11.
WITH THE LOSS, Robinson, the defending Concorde District champion, entered 2013 with a 9-3 record. The Rams will host Centreville at 7:30 p.m. on Friday, Jan. 4 for their district opener.
"We're not going to hang our heads about this for a long time," Nelson said. "We're disappointed that we lost, but we've got bigger goals that we need to accomplish this season."