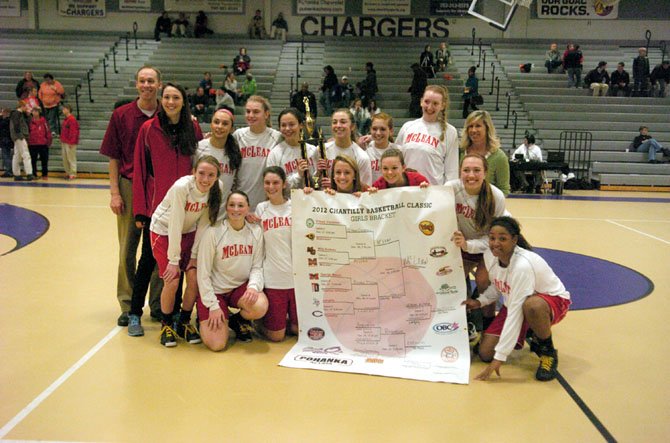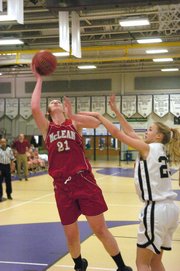 Chantilly — The McLean girls' basketball team entered Saturday's Pohanka Chantilly Basketball Classic championship contest riding a five-game winning streak.
The Highlanders quickly showed they had no interest in slowing down.
McLean jumped out to a 16-2 lead against George Mason and cruised to a 59-32 victory on Dec. 29 at Chantilly High School, giving the Highlanders their first Pohanka Classic title.
McLean beat Georgetown Visitation, 40-35, in the semifinals on Dec. 28 and defeated Mills Godwin, 41-30, on Dec. 27.
"It feels great to have this big win going into district play," McLean senior Lisa Murphy said, "… and to win this tournament gives us a lot of momentum going into the rest of the season."
MURPHY, a 6-foot-1 forward, was named tournament Most Valuable Player. She scored 13 points and grabbed four rebounds against George Mason, and averaged 14.7 points and 5.3 rebounds per contest for the three-day event.
Murphy and 6-foot-2 junior Maia Lee provide McLean with a formidable duo in the paint. Lee, who was named to the all-tournament team, averaged 9.3 points and 8.3 rebounds per game during the tournament, including a 13-point, eight-rebound effort against George Mason.
"When we lost those three games, I think we were all pretty down. But we've gone on a winning streak right now and winning this tournament I think brings a lot of confidence to everyone on the team."

--- McLean senior Lisa Murphy
"Lisa knows whenever I pass her the ball she'll make it, so I trust her," Lee said. "And then she trusts me to make shots whenever she passes to me, so we're always on the same page."
Murphy and Lee combined for 10 points during McLean's 16-2 run to open the game, and scored 20 of the Highlanders' 28 first-half points.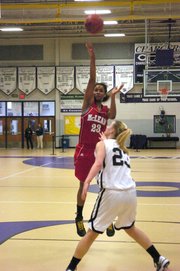 "The tandem of those two working together and starting to learn how to work together was very apparent today," McLean head coach Mike O'Brien said, "and is going to be a foundation of what we build off of."
After falling behind by 14 early, George Mason battled back with an 11-2 run that stretched into the second quarter. McLean answered with an 18-3 run, capped by a Shellie Kaniut bucket in the third quarter, giving the Highlanders a 36-16 lead. McLean led by as many as 29 points in the second half.
Kaniut scored 10 points against the Mustangs. Elena Karakozoff and Melanie Becher each scored five points and Cami Prock added four.
"That's what's great about our team; we have so many threats --- we have threats in the post, we have threats in our guards," Murphy said. "Definitely, we always want to try to exploit what we have."
George Mason senior Stephanie Cheney scored 15 points and grabbed 13 rebounds.
MCLEAN WON its season opener against Woodson, 50-40, on Nov. 29, but lost Lee to a left knee injury. With Lee sidelined, the Highlanders dropped their next three contests. With Lee back on the court, McLean has won six in a row and enters 2013 with a 7-3 record, including 1-1 in the Liberty District. The Highlanders will travel to face Madison at 7:30 p.m. on Wednesday, Jan. 2.
"When we lost those three games, I think we were all pretty down," Murphy said. "But we've gone on a winning streak right now and winning this tournament I think brings a lot of confidence to everyone on the team."