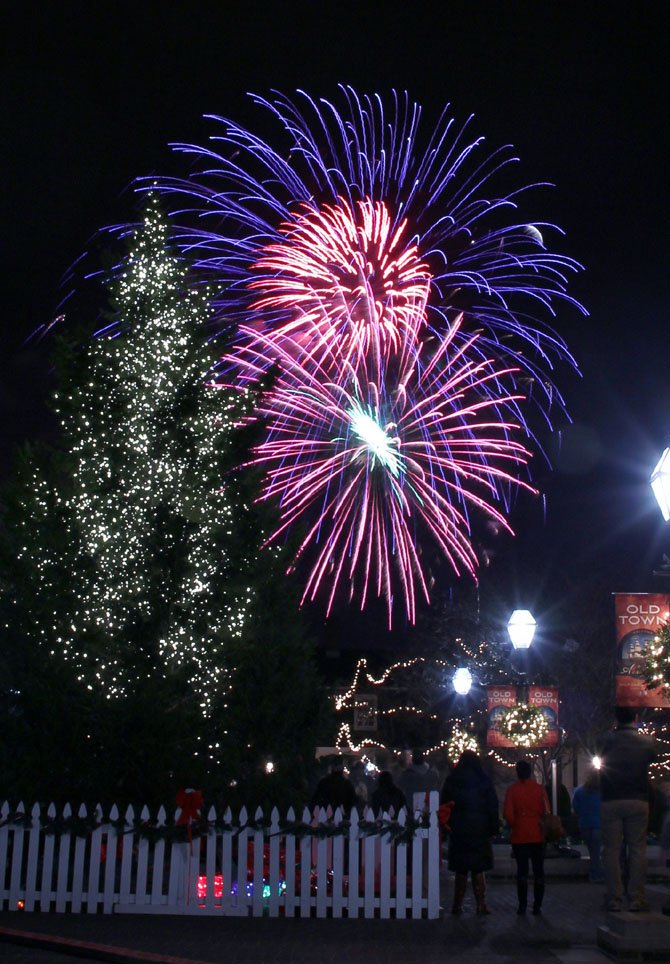 Revelers from as far away as New Zealand celebrated the New Year here as a dazzling display of fireworks lit up the Alexandria waterfront to signal the arrival of 2013.
"This is the best New Year's Eve ever," said Sean Gresham, who was visiting Old Town with Michaela Codella of New York. "She just agreed to move to New Zealand to be with me so this is truly a night to remember for us."
The fireworks finale was the culmination event of First Night Alexandria, which included a rare one performance only concert by internationally acclaimed Scottish fiddler Bonnie Rideout.
"It's very special for me to be here tonight," Rideout told a sold-out crowd at St. Paul's Church that included her daughter Clarice. "I remember playing at the inaugural First Night celebration and it was here where I first revealed publicly that I had multiple sclerosis. While I don't perform much in public any more, this event is still very dear to my heart."
Billed as the largest family-friendly New Year's Eve party in the greater Washington area, more than 100 live performances took place throughout Old Town culminating with a fireworks finale over the Potomac River along the waterfront.
"This was fabulous," said Charlisa Gordon of Lawrenceville, N.J. "I was in New York City last year but am so glad I came here tonight."
The crowd, estimated to be more than 10,000, included children clutching glow sticks or perched on their parents' shoulders to get a better view of the festivities.
"First Night is great," said 6-year-old Caroline Christensen of Alexandria. "I did it once before when I was little but I'm having more fun tonight."
First Night participants enjoyed an afternoon scavenger hunt throughout Old Town before evening performances got underway as part of the celebration that extended from the George Washington Masonic Memorial to the waterfront.
"Everything went off beautifully this year," said First Night Alexandria executive director Ann Dorman. "Between afternoon activities and the fireworks, it was a fabulous day."
According to Dorman, a larger crowd than expected by the Alexandria Police Department gathered at the foot of King Street and along the waterfront to view the fireworks finale as the countdown to midnight began.
"We're still running the numbers but around 10,000 participated in First Night this year," Dorman said. "But according to our initial reports, there were no major incidents to report. Everyone had a safe New Year's Eve and that's what's important to us."
In addition to Rideout, other entertainment included the Grammy-award winning duo of Al Petteway and Amy White, the Janine Wilson Band, singer/songwriter Nicole Belanus and Alexandria's own Keira Moran, a 17-year-old senior at T.C. Williams.
For the first time, four food trucks were allowed to operate in the city as part of First Night Alexandria, which set a new sales record since the event began in 1994. Other businesses along King Street also stayed busy throughout the day.
"It's been crazy busy all day," said Alexandria Cupcake owner Adnan Hamidi at around 9:30 p.m. "We baked 3,000 cupcakes today and are already down to our last dozen."
After being absent for the last two years, a fireworks finale was reinstated as part of the festivities but had to be relocated to the waterfront due to new state regulations that affected the previous site at the George Washington Masonic Memorial.
"We weren't sure how all of this would work out," Dorman said. "But it all came together wonderfully and we'll absolutely have fireworks again next year."