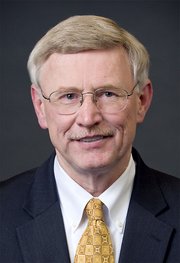 "What are the most important issues or challenges facing your district and Fairfax County today?"
Supervisor John W. Foust, (D-Dranesville)
"In 2013, we will again confront many challenges, at the county level as well as in the McLean, Great Falls, Herndon, Falls Church and Vienna communities in the Dranesville District. I will continue to address our challenges by seeking input and suggestions from my constituents and by working with my excellent staff to provide leadership. Some of the more significant issues I expect to deal with in 2013 are discussed below.
Challenge: adequately fund essential county services and infrastructure needs.
We are still in a multi-year economic downturn. Our ongoing challenge is to maintain the level of services county residents expect and to make the infrastructure investments we need while protecting county taxpayers.
Since I took office in 2008, we have cut tens of millions of dollars from the county operating budget without serious reductions in the county's support for public schools and other essential services like police, fire and rescue, and programs that serve the members of our community who are most in need. At the same time we are struggling to maintain services, we are facing the need for substantial investment and re-investment in infrastructure like roads, transit, schools, storm water management and other public facilities.
As vice chairman of the Board's Budget Committee, I will continue to emphasize reducing costs by improving efficiencies and focusing on our core services. And as chairman of the Board's Audit Committee, I will continue to work closely with the Auditor to the Board to review county programs and financial policies to improve their cost-effective operation.
I will also continue to work with the community to establish our budget priorities and address our budget challenges. As I have done for the past four budget cycles, I have convened my citizen budget task force. The members are meeting and hearing presentations by various county and FCPS officials. The Task Force will prepare a report that will be presented to me early in 2013. I will share the report with my colleagues on the board as we develop and adopt the final budget. I will also convene several public meetings to solicit community input on budget priorities prior to budget adoption.
Challenge: meet the needs of the rapidly increasing segment of our population over the age of 65.
In 1970, only 3 percent of Fairfax County residents were age 65 or older. By 2003, the percentage had increased to 8.4 percent. By 2020, it is projected that there will be more than 136,000 persons age 65 or older living in the county, nearly 12 percent of the total population. To address the special needs of older residents, my staff and I are working closely with community groups in Great Falls, Herndon and McLean. We are exploring concepts and ideas to better understand and meet the needs of seniors in the Dranesville District and to facilitate 'aging in place' in our community.
Challenge: provide bus, pedestrian and bicycle access to the Silver Line Metro stations and commuter parking at the Tysons Metro stations.
In 2013, I will continue to work on improving access to the future Tysons Metrorail stations. Through a significant public outreach process, we have identified bus transit, pedestrian and bicycle improvements that are needed to provide improved access to the stations. Significant funding has been committed for several of these projects and my staff and I will continue to work to move these projects forward.
Making the Tysons Metro stations accessible for residents who can only get to the stations by driving their cars is also one of my priorities. There were no dedicated public parking garages included in the original Tysons Metro Stations plans. At my request, the Board of Supervisors directed staff to study ways to identify commuter parking possibilities near the Tysons stations. Recently, the board endorsed the Metrorail Interim Parking Request for Interest (RFI). That RFI establishes a streamlined program that allows interested property owners to provide privately-run commuter parking lots near Metro stations in Tysons. Several property owners have already expressed interest in the program and it is my goal that one or more parking lots will be operational by the time Metro service comes to Tysons in December 2013.
With the approaching construction of Dulles Metrorail Phase Two, I will also be working with the county and the Town of Herndon on plans and funding for bus, pedestrian and bicycle connectivity between the future Herndon area Metrorail stations and surrounding communities.
Challenge: Make Dranesville more accessible and safe for all pedestrians and bicyclists.
Many Dranesville residents want to be able to leave their cars in the garage and walk or bicycle to their destinations. Making Dranesville more pedestrian and bicycle-friendly has been one of my top priorities. My office has worked with citizen groups across the Dranesville District to identify projects, set priorities and obtain funding for sidewalk, trail and bicycle projects. As a result of our collaborative efforts, numerous projects have been completed. In 2013, several more projects will get underway, including trails along Georgetown Pike, pedestrian improvements and traffic-calming on Walker Road, and two new trails on Lewinsville Road that will complete missing links to provide continuous, safe pedestrian access from Dolley Madison Boulevard to the intersection of Lewinsville Road and Spring Hill Road."