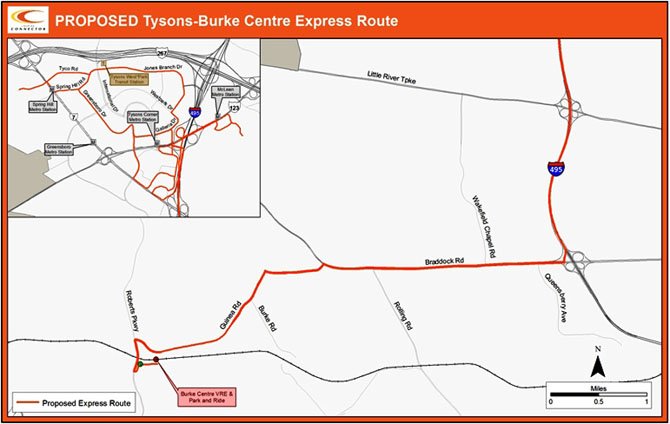 Get ready to ride the 495 Express Lanes. For free. Really.
Beginning Monday, Jan. 14, the Fairfax County Department of Transportation (FCDOT) launches Express Connector bus service from Burke to Tysons.
Line Information
Fairfax Connector will operate an express bus service to Tysons from Burke on Jan. 14. Additional routes beginning spring 2013 include:
*Springfield/Saratoga to Tysons
*Lorton VRE to Tysons
*The new bus service will use the 495 Express Lanes
*Buses will travel on average 55 mph on the Beltway, even during rush hour
*Routes will be limited-stop
*Will be direct express bus service
*The one-way fare is $3.65 SmarTrip® or $4 cash
*Commuters can use their SmarTrip® card or cash
*Ride for Free from 1/14 to 1/25
For more information, go to www.fairfaxcounty....
Bus routes will use the 495 Express Lanes to provide limited-stop services between the Burke Centre VRE station and Tysons. The buses also will circulate through Tysons, stopping at the office locations for major employers.
The ride is free from Jan. 14 to Jan. 25.
"We invite you to learn more about this convenient way for Burke community residents and commuters to enjoy a stress-free ride to work, take a tour of the new bus and climb aboard to experience the comfortable ride," said Tom Biesiadny, director of FCDOT. "By introducing this new, viable public transportation, we are helping to reduce traffic and connect areas of Fairfax County to each other like never before."
Starting weekday mornings on Jan. 14, buses will depart from the Burke Centre VRE station for Tysons from 6:30 to 9 a.m., serving select Fairfax Connector stops before entering the 495 Express Lanes.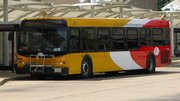 Buses will depart from Tysons for Burke weekday afternoons from 4:15 to 7 p.m. The service will also offer midday buses departing from Tysons at 11:30 a.m. and 1:30 p.m. to meet the commuting needs and schedules of riders.
The trip, according to Biesiadny, will take about one hour, with one-way fares set at $3.65 if paid by SmarTrip card and $4 if paid in cash.
Additional bus services to Tysons will be launching from Springfield and Lorton in the following months.
The new express bus routes support the county's plans to turn Tysons into a walkable, green, transit-oriented urban center. Called "Fairfax County's downtown," by local officials, Tysons is expected to be home to 200,000 and up to 100,000 jobs by 2050.