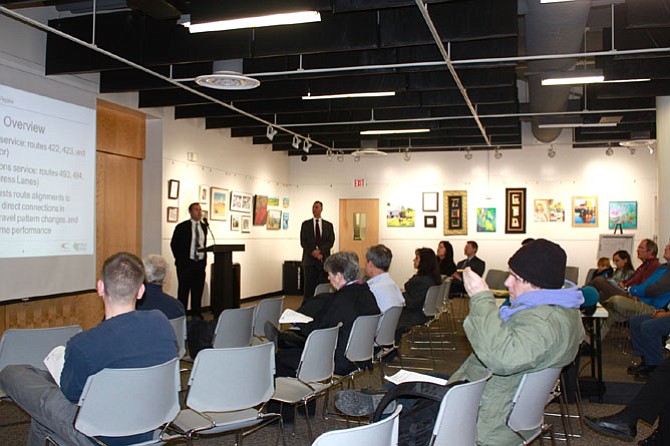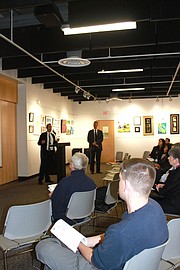 Fairfax County Department of Transportation is working on a better system of buses for the Reston and Herndon area.
Representatives from the county transportation team held a public hearing on route changes for the Fairfax Connector on Jan. 28 for a small audience at the Reston Community Center in Lake Anne.
"We need to improve on-time performance," said presenter Nick Perfili. "We understand that. We're grateful for everyone's patience."
He said bus ridership to the new Wielhe-Reston East Metro Station will be available earlier in the day so commuters can get to work on time.
Additionally, RIBS 5 and Route 937 will be combined to improve connections while reducing duplication.
Improved connections and simplified service will also be available on Route 937.
RIBS 5, a bus route that extends to Herndon, will offer new daily service between Reston Town Center and Harbor House. Additionally, earlier weekday eastbound service will bring commuters to the Silver Line Metrorail station even earlier.
"This is the route that goes into Herndon, but got split from RIBS 4 in 2009," said Perfili.
Several of the changes were to simplify routes. Some stops switched route numbers depending on the day of the week and the time, but Perfili said it just caused confusion and brought lower numbers of commuters to those routes.
For one neighborhood, however, the changes would mean the residents would not be able to catch the bus near their house.
"I see you're trying to improve service," said Reston resident Shirley Lee. "I catch the bus on Lake Newport, and people in that branch will be impacted by non-service on rush hour weekdays and nonservice on the weekends. I'm not happy for me and my neighbors."
She said because of the change of the route's hours, her neighbors may experience less convenience and a dropped value - possibly - on their homes.
"For the people that ride, our needs are being minimized," she said. "We feel like stepchildren. It's not a good feeling."
Another Reston resident, Curtis Clinton, mentioned he was a bus driver for New York City and most recently for Fairfax County Public Schools. He said a "spaghetti map" like the ones done for the Metro stations, should be made in order to reduce confusion for commuters who do not use the service often.
"We don't know where the buses go," he said.
Tom Biesiadny, FCDOT Director, said the changes will not require additional resources or funds - they will be reallocated if approved by the county Board of Supervisors around late spring. Once approved, he said implementation could begin as early as late May.
"Periodically, we like to look at our buses and services," he said. "We want to make these proposals to provide more reliable service."
Comments about the plan can be made by emailing fairfaxconnector@fairfaxcounty.gov.