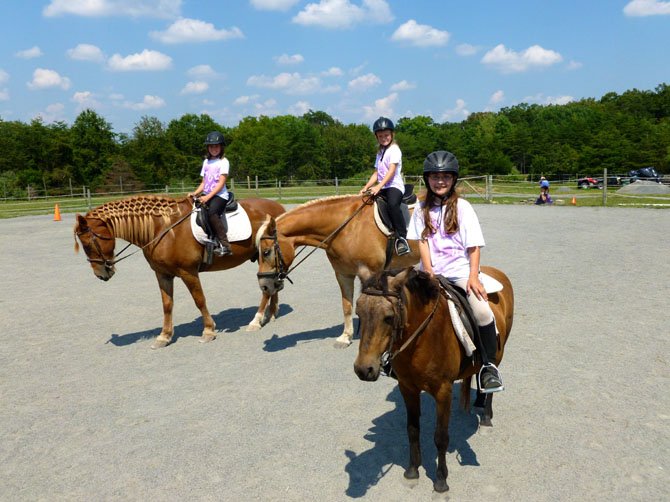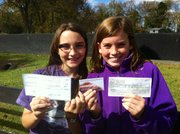 Caring and compassion can reside in people of all ages. Just 13, Centreville's Katie Puckett showed that when she created a charity called Horses in Need of Heroes.
"She's been passionate about horses since the age of 3," said her mother, Julie Puckett. "When she learned [in 2011] that each year horses are neglected and abused, she wanted to help."
Actually, Katie started the charity with her friends, sisters Penelope and Sophia Edwards. All three girls live in Centre Ridge. Katie is in eighth grade at Liberty Middle School; Sophia, 12, is a seventh-grader there; and Penelope, 10, is in fifth grade at Centre Ridge Elementary.
"My friends and I began the organization to take action to help horses," said Katie. "We are three motivated, young girls who wish to make a difference in the lives of horses."
"With the hope and dream of being 'heroes' to horses, we began by coming up with a mission — to decrease the number of abused and slaughtered horses," continued Katie. "We named it Horses in Need of Heroes because it's all about people — us and others — helping horses live to their full potential."
Often, these horses are former racehorses whose owners no longer want them. But, said Katie, "Just because they aren't fast anymore doesn't mean they should stop living." Other horses end up in jeopardy when their owners, for a variety of reasons, can't take care of them anymore.
So Katie designed, wrote and set up a Web site, www.HorsesinNeedofHeroes.org, to educate people about the plight of such horses and provide them with a place to support their charitable efforts. The girls also created and printed business cards.
"We've put a lot of time and research into this," said Katie. "We also have donation jars that we designed to look like horses, and we've placed then in saddlery stores in Northern Virginia, explaining our mission."
Locally, they're at Clifton Saddlery in Centreville, Deepwood Veterinary Clinic in Centreville and Dover Saddlery in Chantilly. Others are in Leesburg and Manassas. The girls have six more horse jars if any other local companies are willing to have one of them on their counter. They may be reached at horsesinneedofheroes@gmail.com.
Katie also wrote brochures to publicize the charity, and she, Sophia and Penelope distributed them throughout their community and in nearby neighborhoods.
"We find that people have chosen to support our organization because we are just three kids trying to help," said Katie. "People don't always know what is happening with horse abuse and slaughter. Sometimes they just need an eye opener, and that's where we come in. We want people to feel comfortable giving donations to our group."

So far, they've raised more than $800 and plan to continue their efforts to raise funds and support local horse organizations. Already they've begun to help.
After much research and many visits, the girls decided the best use for the money they collected would be to donate it to the Equine Rescue League (ERL) in Leesburg (www.equinerescueleague.org). This nonprofit organization provides care, rehabilitation and training for horses at its farm shelter and adopts them out to qualified people who'll provide them with good homes.
So at an open house in October, Katie, Sophia and Penelope gave $390 — what they'd raised at that point — to the Equine Rescue League. And members of the organization were thrilled.
"These young ladies have gone above and beyond and certainly are making a difference in the everyday lives of horses," said the ERL's Cheryl Rogers. "With this money they've raised through their charity called Horses in Need of Heroes, they will be able to help many, many horses in need. We need more heroes like them willing to go that extra mile to help horses that have been abused and neglected."
Recently, the girls have added more information to their Web site, including videos and photos. To increase support, they've also created a Facebook fan page at "Horses in Need of Heroes" and written letters to their neighbors about their efforts. For more information and to help, go to www.HorsesinNeedofHeroes.org.