In a magical kingdom under the sea, the beautiful young mermaid Ariel longs to leave her ocean home to live in the world above. Will Ariel get her wish and find true love?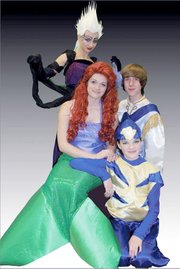 Find out this weekend during Northern Virginia Players production of Disney's The Little Mermaid, Jr. Adapted from Disney's 2008 Broadway production, the production features the hit songs "Part of Your World," "She's in Love" and the Oscar-winning audience favorite "Under the Sea."
"With a cast of 58 actors ages 8-18, this is sure to go down as one of the most exciting live shows to hit the stage," said co-director Kate Wittig.
"Northern Virginia Players has been thrilling audiences of all ages since its start. Exceptional talent, costumes and staging supports professional quality theatre at the community level," said co-director Ann Eul.
In keeping with their tradition of service for those in need, Northern Virginia Players will be donating part of ticket proceeds from the first weekend shows to Hurricane Sandy relief efforts.
The production will be performed at the Family Worship Center, 7719 Fullerton Road in Springfield.
Show dates and times:
Friday, Jan. 11 at 7:30 p.m.

Saturday, Jan. 12 at 1:30 p.m. and 7:30 p.m.

Friday, Jan. 18 at 7:30 p.m.

Saturday, Jan. 19 at 1:30 p.m. and 7:30 p.m.
For more information and to purchase tickets, visit their website at NVPlayers.com. Also, visit their Facebook Page at "Northern Virginia Players" for pictures of previous shows and exciting updates. If you have questions, call 703-866-3546.