Ariel, Prince Eric, Flounder, Sebastian the crab and all the other characters from the popular story and movie are in The Alliance Theatre's production of "The Little Mermaid Jr." And a Robinson Secondary student has one of the starring roles.
Performances are Nov. 9-24 (see box for details) at Mountain View High School, 5775 Spindle Court (behind Glory Days Grill) in Centreville. The musical features 10 adults and 35 students in grades three through 12, and Director Maggie Swan says they're all really talented.
The Alliance Theatre presents "The Little Mermaid Jr." Saturday, Nov. 9 and 23, at 11 a.m. and 4 p.m.; Sunday, Nov. 10 and 17, at 2 p.m. (with Behind the Scenes program); Friday, Nov. 15, at 7:30 p.m.; Saturday, Nov. 16, at 1 p.m. (with Behind the Scenes program); and Sunday, Nov. 24, at 2 p.m. Tickets are $12; discounts for groups of 10 or more.
Go to http://www.theall...">www.theallianceth... or e-mail http://BoxOffice@...">BoxOffice@TheAlli....
"We have kids from at least 15 different schools," she said. "A hundred kids auditioned and we knew right away who'd play which role—they all fit their parts. They work well together, too, and are having a great time with each other."
The scenes take place on an ocean, in a ship, under the sea, on a beach and in a palace. And the actors will portray mermaids, crabs, fish, sailors, a prince and several princesses.
"The audience will be impressed and touched with the kids' talent," said Swan. "They'll love the colorful costumes, cool lighting and neat special effects. And our villain, Ursuba—played by Chloe Gilfoil—is pretty scary. It's a fun story families will enjoy seeing together."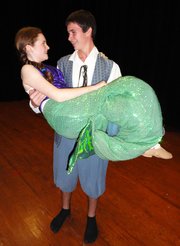 Playing the title role of Ariel, the mermaid, is Herndon Middle's Allie Lytle. "Ariel's spunky, fun, full of life, adventurous, proud, stubborn and curious," said Lytle. "She's in love with the human world and falls in love with a prince, so she asks Ursula, the sea witch, for legs. She gets them; but if by sunset after three days, she and the prince haven't kissed, she'll turn back into a mermaid and Ursula can keep her soul."
Elijah King, a Robinson sophomore, portrays Prince Eric. "He's adventurous, bold and loud, yet controlled and polite because he was raised to be a king," he said. "He's also kind and caring. It's fun playing a Disney prince because you have the freedom to be big and animated. And I like how the cast is all different ages and personalities."
King's favorite song is "One Step Closer," which he sings to Ariel while they dance. "It's a fast-paced, ballroom dance in which she's introduced as the prince's love interest," he said. King also said the audience will like the show's message "to be yourself and follow your dreams, because good things happen if you stick with what you want."