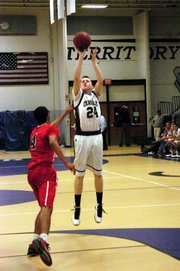 Chantilly — Chantilly boys' basketball coach Jim Smith said the Chargers knew they had to slow down Herndon standouts Will Ferguson and Dorian Johnson during their Jan. 10 meeting with the Hornets.
After the Herndon duo combined for 50 points while Chantilly struggled to capitalize at the offensive end, Smith said the Chargers, who entered the game with a 12-1 record, received a "wake-up call."
Herndon defeated Chantilly 75-65 in a Concorde District matchup at Chantilly High School. Ferguson and Johnson each scored 25 points while taking turns as the Hornets' primary scorer. Johnson scored 13 of Herndon's 15 first-quarter points, Ferguson scored 16 in the third quarter, and Johnson scored nine points late in the fourth quarter after Ferguson went to the bench with an injury.
Meanwhile, Chantilly shot less than 50 percent from the free-throw line and struggled in the paint, Smith said.
"We came into the game with the idea that we had to do a pretty good job on Johnson and Ferguson," Smith said. "They combined for 50 points. You allow those two guys to score 50 and then we missed 18 shots in the paint and we [make] 9 of 20 from the free-throw line, it's hard to win when you do that."
The Chantilly coach said the Chargers have had season-long offensive problems, crediting defense for keeping the team in most games. Chantilly is shooting 56 percent from the foul line.
"It was a good wake-up call for us."

— Chantilly boys' basketball coach Jim Smith
"We've left a lot of points on the floor going back to our very first game," Smith said. After the game, he told the Chargers: "'Obviously, as coaches we can maybe do some things to get you guys in better spots, but that being said, we still missed 18 shots in the paint and missed 11 free throws, so I'm not sure it's really a matter of getting better shots. We got good shots, it's just making a higher percentage of them.'"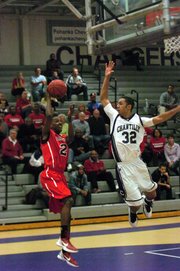 One player who had a strong offensive performance was 6-foot-4 sophomore Josh Conwell, who finished with 12 points — a season high, according to stats from the Washington Post's web site. Conwell drained a pair of 3-pointers, including one that cut the Herndon lead to 56-51 with 4:44 remaining in the fourth quarter.
"He's a very good shooter," Smith said. "We need him to continue to develop as a player. If he becomes a better defender, then it's going to be hard to take him off the floor the way he shoots the ball."
DeAndre Harris led Chantilly with 15 points and Brian Sydnor finished with 14.
Sydnor is Chantilly's leading scorer at 18.9 points per game, according to the Post's stats. Smith praised the Hornets for their defensive job against the senior forward.
"They were physical with him," Smith said. "They put their hands on him [and] they bumped him. They were in a triangle-and-two and really manned him up and tried not to let him touch the ball. I thought they did a very good job."
Chantilly fell to 12-2 overall and 2-1 in the district.
"It was a good wake-up call for us," Smith said.
The Chargers will host Robinson at 7:30 p.m. on Friday, Jan. 18.