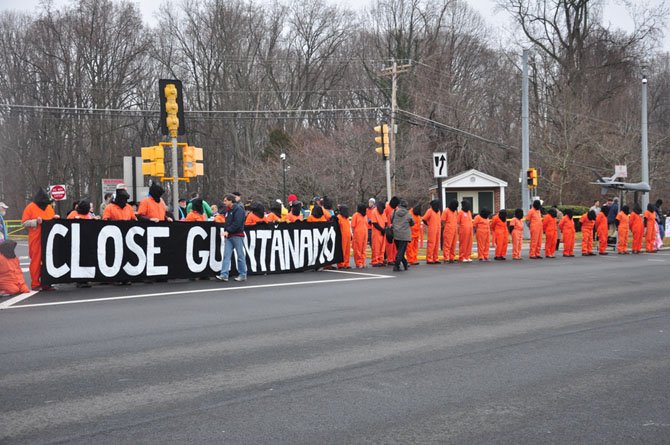 McLean — The Dolley Madison Boulevard entrance to CIA Headquarters was rendered impassable the morning of Saturday, Jan. 12, as more than three dozen people in orange prison jumpsuits and black hoods over their heads lined up to protest actions taken by the intelligence agency in recent years.
Members of Witness Against Torture planned the rally, their third at the CIA headquarters in recent years. In addition to the protesters in prison garb, others gathered to speak and pass out information about the activities they're against.
"I wish this is something we could do every day, that would shut this place down," said Jack McHale of Burke, who had been fasting for the past week as part of the group's protest."
THIS ISN'T THE FIRST TIME McHale has fasted to bring attention to peace and justice issues. In 2003, he and a friend started a "Pre-Emptive Fast for Peace," which lasted three weeks and eventually grew to more than 1,200 people around the country.
McHale fasted then to bring attention to the impending war in Iraq, and to encourage people to write to their legislators urging them to vote against the war. Now, more than eight years later, McHale is hoping to bring to light the consequences of the war he hoped this country wouldn't start.
"This is a two-pronged program, we want to shine a light on tactics such as torture and drone attacks, and educate people as to the terror they cause around the world," he said. "And we want to bring attention to the 166 people still imprisoned at Guantanamo Bay by this administration."
While fasting, McHale consumes only liquids, mostly water and 100 percent fruit juices.
The orange-clad protesters stood next to several models of the General Atomics MQ-9 Reaper, an unmanned drone used by the U.S. Army, Navy and CIA.
"One of our goals is to convince people who are anti-war, but aren't opposed to drone attacks [of] the terrible affect these drones are having on civilians," said Nuala Cohen of Burke, who has been a peace activist for more than 10 years. "I've been involved in planning the last one, but this is the first time I've been out here, and it's very powerful to see."
Many of the protesters fasted leading up to the event, which also included a protest the previous night at the White House.
"What's disturbing to me is that the program of torture and indefinite detention that was introduced by the Bush administration has in many ways been replaced by a program of drone attacks and killing people without any kind of process anywhere in the world," said Andy Worthington, a journalist from Britain who has published books and documentaries about Guantanamo Bay.
THEY BROKE their fast after the demonstration at the CIA Headquarters, hosted by the Langley Hill Friends, a Quaker organization.
"For me, the experience of eating after a fast is overwhelming. In addition to the intense, sorely missed flavors, I appreciate the experience of chewing, and it seems that I can literally feel the food as it travels toward my empty, grateful stomach," said Chantal DeAlcuaz, a Witness Against Torture member. "As the WAT community paused from our work for a joyful meal together, I was keenly aware of conversations around drones and further protest. These discussions were a poignant reminder that though we pause to celebrate, our work will undoubtedly continue."
McHale said they plan to take at least six drone models to Washington, D.C., on Inauguration Day next week, and they plan to protest at the CIA the second Saturday of every month.