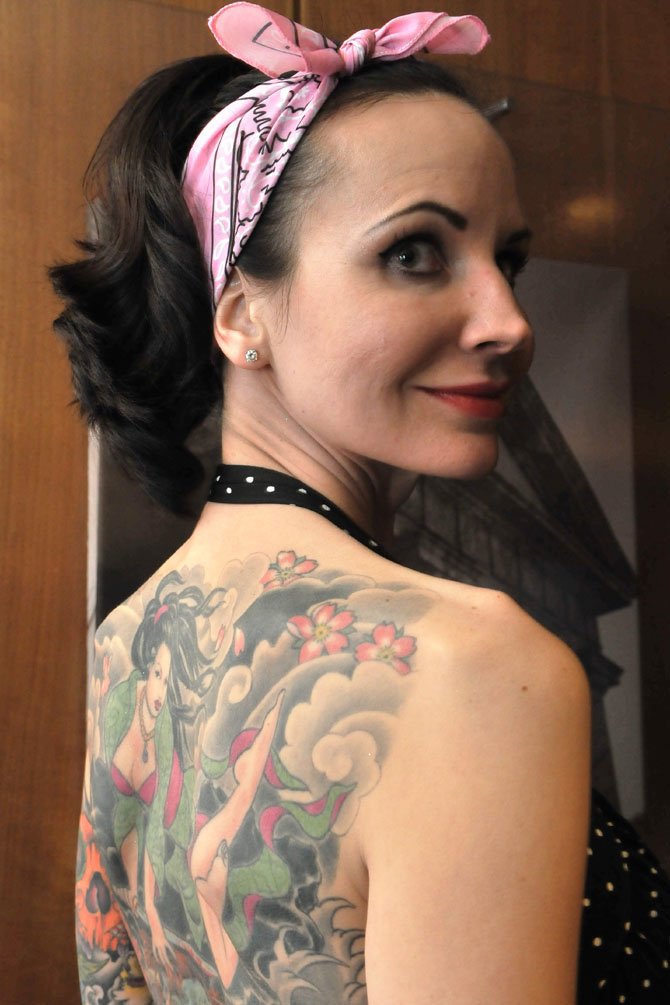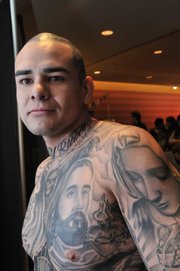 Arlington — The hum and whiz of needlework welcomed visitors to the third DC Tattoo Expo, held Jan. 12 and 13 at the Crystal Gateway Marriot in Arlington.
Despite early concerns of a lower than usual turnout by event organizers, crowds surged throughout the weekend as people from across the country came to see the best in the business perform their craft. Unlike many tattoo expos held annually throughout the United States, the DC Tattoo Expo invites only the upper echelon of artists.
"We solicit portfolios and only invite artists who have a high quality of work," said Greg Piper, expo organizer and owner of the Manassas-based Exposed Temptations Tattoo shop. "Some of these artists have a seven to nine month waiting list, sometimes up to two years, but they take time for walk ins at the expo."
The relationship between tattoo artists is a close one, as many get to know one another over the course of the national tattoo expo circuit. "We go all over the country and see each other at shows," said tattoo artist Tommy Haley, who attended 16 shows in 2012. "We're a group of friends, and the expos are places where we respect people's work. Everyone here is the best from where they come from."
Daily contests allowed those laced in ink to strut on stage for a chance to win awards, and the admiration of the crowd. The overall female winner on Saturday went to Rachel DeVore of Cape May, N.J., while overall male went to Tommy Montoya of Los Angeles, Calif.
Tattoos often hold personal significance. Montoya began the process of dedicating his body to inked art with a date inscribed on his upper neck, "Friday 13, September 2002," the day he was shot four times. "Seven people were shot at a backyard party, a good friend of mine died as well as two innocent bystanders," said Montoya. "They never caught the people responsible."
DeVore, who is retiring from the coast Guard after 20 years, explained the significance of her Japanese maiden tattoo in terms of female strength and the defeat of negative actions. "We can be powerful strong women," said DeVore. "Cutting off a demon head shows we can leave behind anything negative, like addiction."
Not all patrons of tattoo artists at the expo were as enthusiastic to receive full-body work, as the process of permanently inking takes time and a degree of pain.
"I really don't like getting it, it's like I'm torturing myself and paying you to do it," said Morganna Sugzdines, a student at Temple University who traveled from Philadelphia to see her artist friend at the DC Tattoo expo. "Getting tattoos is kind of like an addiction, you do one then do another, but I forget how much it hurts until I get the next one."