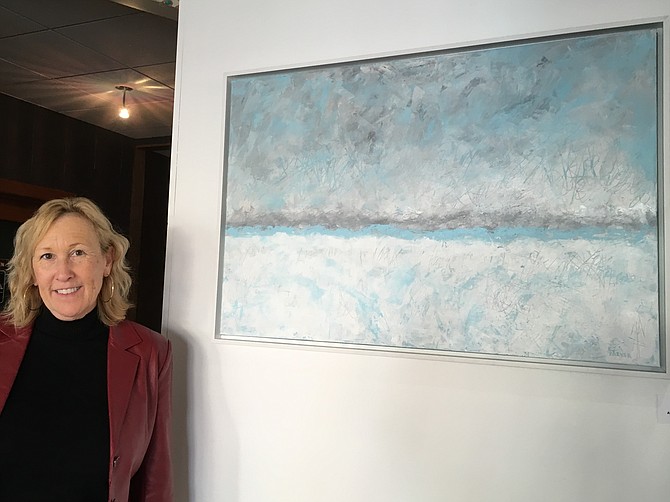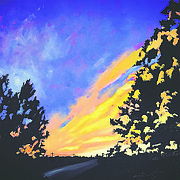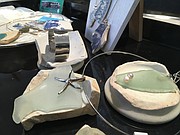 Arlington artist Sandi Parker plays with a range of themes, from impressionistic interpretations of seascapes, landscapes and cityscapes, to her vibrant acrylic abstracts.
Her paintings have won awards and she has participated in juried shows around Virginia, including the Art League at the Torpedo Factory. Her "Ohio Sunset" showed a sunset fading into dusk with trees silhouetted against it. This perspective won first prize at last year's "Power of Nature" exhibit at Gallery Underground that was juried by the D.C. artist Lilian Thomas Burwell.
Two of Parker's abstract paintings, "Energie Violette I" and "Energie Violette II" were specially commissioned by the Crystal City Business Improvement District (BID) as part of its Art Walls initiative. Her 10x10 inch paintings were enlarged to 10x10 feet. They are now displayed in Crystal City as part of the Wall Art program.
Parker took art classes in high school and college where she mostly did pen and ink drawings. In 2000, she studied oil painting under Jane McElvany Coonce, a long-time art instructor at the Arlington County Adult Education program and a founding member of the Arlington Artist's Alliance.
Through what she learned from class and inspired by her favorite painters Monet and Manet, Parker painted places she loves from colorful gardens to the calm waters of the sea. A decade later, she embarked on a new phase by taking a class on abstract art from local artist Bud Hensgen. For Parker, her abstracts are "all about color and texture," how she likes to experiment with different textures, using hardware tools and adding "thick layers of paint."
Inspired by her children who played a lot of sports, Parker also created sports-themed paintings, resulting in a solo show: inMOTION, which featured 20 paintings of Arlington High School athletes, where she tried her best to "capture action, drama, and touching interaction between players and coaches." Her painting, "Friendly Rivals," of two swimmers from competing schools who are seen shaking hands after a race, is on display at Gallery Clarendon until the end of the February.
Parker is also a supporter of the Arlington community. While her children were still studying in Arlington, she received an award for her volunteer work for Arlington schools. Today she is immersed in supporting Arlington's artistic community. Previously a board member of the Arlington Artists Alliance, she is now the managing director of Gallery Underground and Gallery Clarendon. Aside from staging the monthly exhibits, she also organizes receptions for both galleries. Gallery Underground has a first Friday reception while Gallery Clarendon is on the second Friday of each month. This is part of the Arlington Artists Alliance goal to bring "local art more accessible to the community."
Parker is one of the many artists who has a studio at Crystal City's Gallery Underground. Her next goal is to paint some cityscapes. She loves street art and finds ideas walking around the streets of Richmond and New York City when she visits her children.
She also has a jewelry line called SandiSea Designs, making jewelry from sea glass and pottery shards from the sea.