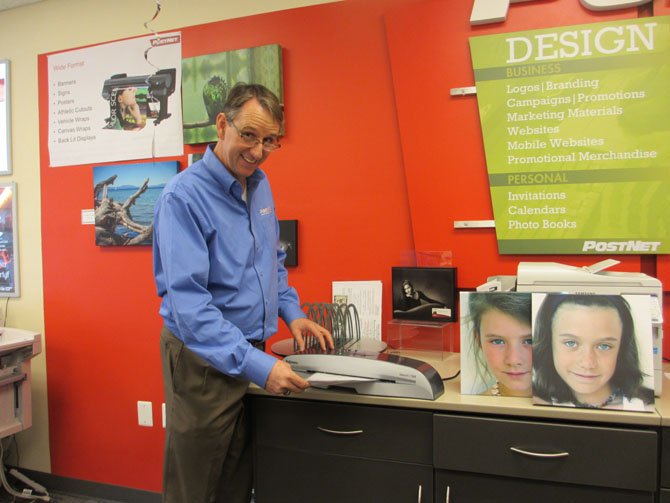 When James Cudney turned his back on the road warrior life a couple of years ago, he turned inward to the community that his family lived in, loved and supported. If he was going to downshift a speed, he was going to center his professional life in Vienna.
"I went from a road warrior to hometown business owner because I love this town and I want to enjoy watching my three sons grow up."
—PostNet Vienna owner James Cudney
"I went from a road warrior to hometown business owner because I love this town and I want to enjoy watching my three sons grow up," said Cudney, president of PostNet 128 on Maple Avenue.
Thirty six months ago, Cudney began looking for a business center that had potential to become a vital component of the community, a place that provided much-needed services and one that could give back to the community as it grew.
"What it really boiled down to is this," said Cudney. "My wife works from home. I worked from home and we never really had a great back-door office company that has all the services we needed as a small business.
"So, I started looking at business center franchises and fell in-love with the concept they have at PostNet."
Cudney signed a contract with PostNet 24 months ago and opened in December.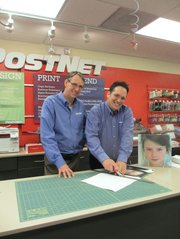 CUDNEY EXPLAINS what makes PostNet different from its competition, although, to hear Cudney describe his business, there is nothing else like it in Vienna.
PostNet is your family-run neighborhood business center, said Cudney, but its on-site services and capabilities are exhaustive. James Cudney's brother Justin moved to Vienna from Washington state to work alongside James as the shop's operations manager and graphic designer. "I had an opportunity to work with my brother, making use of my skills, out of the rat race," said Justin Cudney. "Coming here was a no-brainer."
Justin Cudney is gratified by his relocation to Vienna and hopes to pursue a master's degree in history from one of Virginia's universities. While PostNet provides a "vast amount" of training, most of what Justin Cudney learned, he learned by doing, he said. He has a background in art and that helps with his graphic design. If customers would like him to, Justin Cudney gives his professional input into customization.
"A lot of customers come in for shipping, and, when they see all we do, it opens up new opportunities to work with them," Justin Cudney said.
PostNet franchises house a variety of equipment required by PostNet but each franchised property can offer added services to its business. PostNet Vienna prints letterhead, business cards, invitations, stationary, and brochures, and produces canvas wrapped photos, customized murals and more. On-site is a wide-format printer for use creating signs and banners. The owners offer custom graphic design as well.
James Cudney calls PostNet a business support center.
Unique in the town is PostNet's conference room available for rent to the public.
PostNet ships all four of the major carriers, FedEX, UPS, DHL and USPS, and maintains a postbox with a Vienna mailing address. It also accepts large shipments.
PostNet has 350 U.S. franchises and 450 international ones. That makes for a lot of buying clout in the industry, Cudney said. When other printers are creating high-quality business cards for hundreds of dollars per thousand, PostNet produces them for $39 per thousand.
"Anything that we cannot do in-house, we send to PostNet for its support to do it," said Justin Cudney.
In support of the community it is part of, PostNet Vienna has developed a program Cudney calls "52 weeks of giving." PostNet Vienna will donate up to five percent of the weekly gross sales to Vienna-area organizations, sports teams, civic groups, service clubs and local schools, from Marshall High School out to Oakton High School, and all the schools in between throughout the year. Cudney and staff are compiling their list of eligible nonprofits now.
Before he joined the "I-love-living-in-Vienna-so-I'll-open-a-shop-here" club, Cudney owned a private research and development consulting company focusing on homeland defense technologies. His work kept him on the road 40 weeks out of the year, away from his young family. He still owns and runs Homeland Tech but he has "shrunk" his geography to stay around Vienna and grow his PostNet business.
THE CUDNEYS moved to Vienna 12 years ago from Paris where his wife held an executive position in an accounting firm.
Cudney's sons, aged 8, 11 and 17, attend Vienna schools, and his oldest son works part-time in the shop.
James Cudney has been active in the town since his move here. He belongs to local civic clubs and business networks, is on the Town of Vienna Business Liaison Committee and is on the Board of Directors of the Vienna Business Association. He volunteers with Boy Scouts and James Madison High School Boosters.
"We're focused on building this business in town and becoming a part of the Vienna business community," James Cudney said. "I really care about this town."
PostNet 128 is at 320 Maple Avenue West, Vienna. To learn about the resources of the business center or to create an online account, go to http://www.va128.postnet.com/. Call James or Justin Cudney at 703-261-6300.