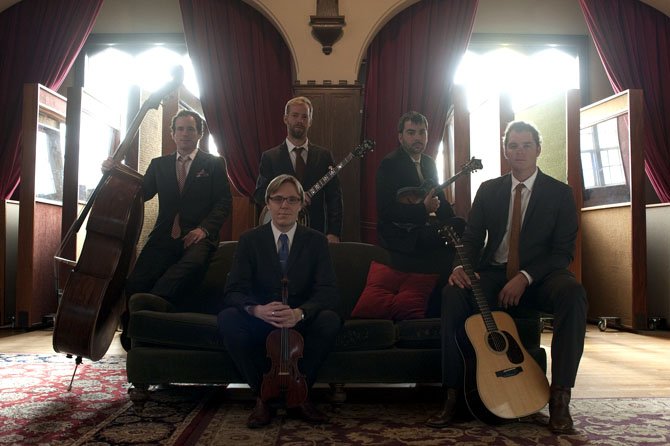 Alexandria — It's only the beginning of January, but the Steep Canyon Rangers have their whole year booked.
The Grammy-nominated quintet from North Carolina are about to kick off not only a tour of clubs, but the four-day Mountain Song at Sea cruise in Miami in February before heading into the studio to record a new album, followed by another round of tour dates.
And on Jan. 25, they'll make their third stop at the Birchmere, a venue lead singer Woody Platt called a "legendary" place, especially in the world of bluegrass music.
"People have come up to us after shows and said I don't like bluegrass, but I love your band," he said. "We're not a typical bluegrass band. We dance around a lot, we sing, we have a really good time."
Bluegrass music "has a lot of layers" and different styles, from those deemed "classical" bluegrass to the more contemporary bluegrass/roots music made popular — and unexpectedly, Platt said — by groups like Mumford and Sons and the Avett Brothers in recent years.
Platt, the lead singer and guitarist, is joined in the band by banjo player Graham Sharp, mandolin player Mike Guggino, fiddler Nicky Sanders and upright bassist Charles Humphrey III. The band started on a lark, as the musicians met while in college at Chapel Hill in North Carolina and began playing together "as a pure hobby," just for fun. As the time came for graduation, the band had developed "some momentum" and decided to make a go of it in the world of music.
"We're very lucky," Platt said. "A lot of bands come together because of their musical talent, but we were friends who happened to like playing together."
THE BAND'S BEEN SUCCESSFUL, too, earning their first Grammy nod for their last album, "Nobody Knows You." There has been one other Grammy nomination, but that was for an album the band recorded with their friend and part-year banjoist, Steve Martin. Yes, that Steve Martin, of Saturday Night Live and movie fame.
It turns out that Martin's wife was a friend of the band before she met him, Platt said. Martin's played banjo for more than 50 years, and when the band was invited to a dinner party while the Martins were on vacation in western North Carolina, an impromptu jam session turned into a musical relationship. Most recently, Martin joined Steep Canyon Rangers on Late Night with David Letterman, The View and a concert on the Mall last summer.
"We couldn't have planned it any better," Platt laughed. "We're thrilled at how it turned out."
Martin won't be joining the Rangers at The Birchmere, but Platt said the partnership has helped bring people to gigs. He also credits the Internet with helping the band spread their music, as the digital technology for sharing music with thousands of people with a few clicks of a computer wasn't around, or as legal, when the band started out more than a decade ago.
He also encourages people who've seen the Rangers perform before to come to the show later this month, as they'll be trying out new material from the upcoming record.
"We're really happy with everything right now," Platt said. "We're booked for the rest of the year. Festivals start booking early, and we've got the cruise, which we host. There's a lot going on."