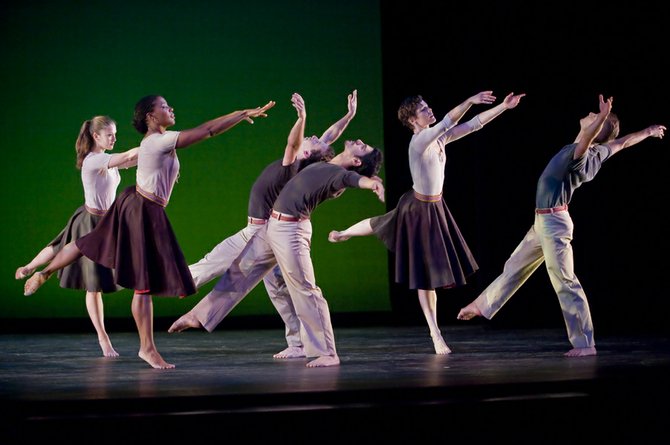 The celebrated Mark Morris Dance Group will soon bring its energy and style, its live music repertoire and several local dancers to enthrall audiences at the Mason Center for the Arts.
Where and When
Mark Morris Dance Group at George Mason University, Center for the Arts, 4400 University Drive, Fairfax. Performances: Feb, 8-9, 2013, at 8 p.m. Tickets: $23, $38 and $46. Call 888-945-2468 or visit cfa.gmu.edu. Note: A pre-performance discussion, free to ticket holders, begins 45 minutes prior to each performance.
George Mason University Dance Gala at George Mason University, Center for the Arts, 4400 University Drive, Fairfax. Performances: March 22-23, 2013, at 8 p.m. Tickets: $12-$20. Call 888-945-2468. General information call 703-993-1114 or visit: http://dance.gmu.edu">dance.gmu.edu.
The Mark Morris Dance Group features Mason alumni Rita Donahue (2002) of Fairfax, and Billy Smith (2007) of Fredericksburg. Mark Morris dancer Spencer Ramirez is from Springfield and attended The Juilliard School in New York City.
The dance troupe will perform pieces not seen in the company's previous visits to the Fairfax County area. They include "The Office," a work for seven dancers performed to live music of Dvorak, "Socrates," set to a piano composition of Erik Satie and "Festival Dance," a work for 12 dancers with music of a Hummel Piano Trio. Performances are Feb. 8-9.
The Mason School of Dance faculty also includes several Mark Morris Dance Group alumni such as Dan Joyce and Susan Shields. Shields danced with the White Oak Project, a venture of Mark Morris and Mikhail Baryshnikov. Joyce danced for about 10 years with the Morris group.
Joyce described the Mason School of Dance program as "building and developing employable professional dancers. Students also have the opportunity to receive training from the very best touring professional dancers and choreographers from all over the United States, in a wonderful facility."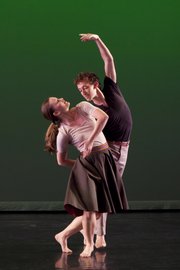 In a recent interview, Mason alumni Billy Smith noted that auditioning for entry into the Mason School of Dance and being accepted did much to provide direction for his nascent professional dance dreams. "Mason provided a wide spectrum of dance experiences for me to know and learn; a rainbow of dance backgrounds and styles so I could gain knowledge from the best to do what I loved doing."
Smith is giving back to current Mason dance students. He is choreographing a new dance work for this year's annual Mason Dance Gala scheduled for March 22-23. Smith not only auditioned and selected 11 dancers and six understudies to perform in his premiere work. "It has been an intense rehearsal process, but so fulfilling," said Smith. "We work together in collaboration to create the final work the audience will see and hear." Smith's work will use music of Dvorak as accompaniment.
You can't go wrong to come see and hear the Mark Morris performances or the Dance Gala, noted Joyce: "If you love music please do come, and if you love dance do come."