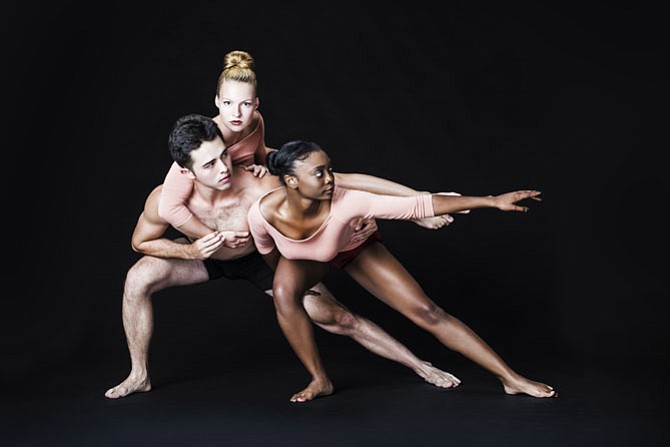 Where and When
2018 George Mason University School of Dance Gala Concert
featuring the Mason Dance Company at Center for the Arts, 4400 University Drive, Fairfax. Performances: March 23 and March 24, at 8 p.m. Tickets $25 for adults; $15 for students, staff, and seniors; and $10 for groups of 10 or more. To purchase tickets, visit https://cfa.gmu.edu/">https://cfa.gmu.edu/ or call 703-993-8888.
Performing works by renowned choreographers, the Mason Dance Company's crowning season event is coming to the Center for the Arts for two performances the evenings of March 23 and 24. The Mason performances will be full evenings of dance by talented Mason students performing technically demanding, intensely driven works
"We are excited to show the public what Mason dancers can do," said Professor of Dance Susan Shields. Before Mason, Shields had a career that included dancing with Mikhail Baryshnikov's White Oak Dance Project as well as the Lar Lubovitch Dance Company and the Mark Morris Dance Group.
Mason's Dance Gala Concert will feature four contemporary works including Mass by Doug Varone, Within Reach by Yin Yue, Flesh by Iván Pérez, and A Brahms Symphony by Lar Lubovitch. These four "provide our Mason students with the opportunity to learn different dance languages, techniques and working methods," said Shields.
Doug Varone's "Mass" is an intensely intimate, emotionally insightful work, said Shields. Beyond work for his own dance company, Doug Varone and Dancers, he has been commissioned to develop choreography by notable dance companies including the Martha Graham Dance Company and Paul Taylor Dance Company.
"Within Reach" is by choreographer and performer Yin Yue who is originally from China. She is now the Artistic Director of her own the New York-based company called YYDC. Recipient of many awards and fellowships, Yin Yue is known for originating the "Folk Contemporary" style inspired by earthy elements of root, wood, water, fire, and metal.
Spanish choreographer Ivan Pérez's emotional work, "Flesh" was inspired by Keith Douglas's poem "Knife." It has a narrative about memory, loss, and love. Perez has helmed his own Netherlands-based dance company INNS. Next season, he will serve as Artistic Director, Dance Theater Heidelberg (Germany).
The Mason Dance Concert's grand finale is "A Brahms Symphony" by Lar Lubovitch. It is a masterwork that premiered three decades ago, and set to Johannes Brahms's "Symphony No. 3." Lubovitch has choreographed more than 100 works for his company, as well as done creative work for film and musical theater productions.
George Mason University dance student and Virginia native Julianne Kannon, praised the Mason School of Dance for being challenging. "I remember thinking how lucky I would be if I got into the program. I am so thankful to have been given the opportunity to perform" at this year's Mason Dance Concert.