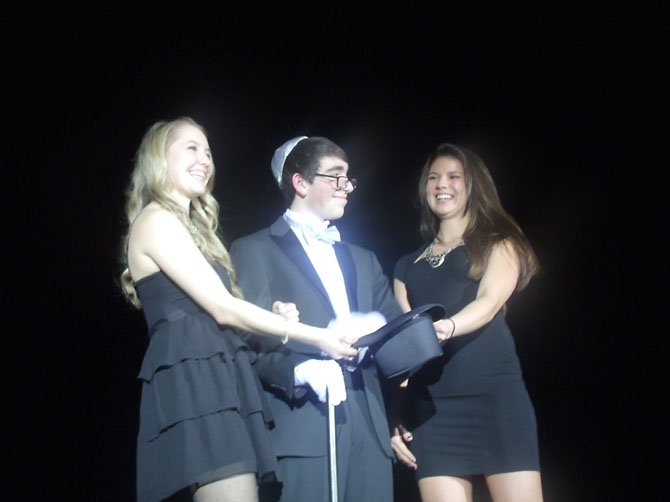 Ten male students from South County High School set the stage on fire at the Dale S. Rumberger Auditorium of the South County High School in Lorton, during the Fifth Annual Mr. Stallion Pageant on Thursday, Jan. 17.
The event, described by Alison Andrews, one of the coordinators and class sponsors, as "a take on female pageant" and a quest for "bragging rights," was well attended by parents and students, who kept yelling for more as participants appeared on stage.
Two past winners of the pageant, 2011 winner Mark Gavino and 2012 winner Brent Bainwol, who eventually emerged as the winner of this year's competition, participated in the pageant. Other participants included: Christian Alvardo, Desniq Campbell, Christian Glover, Angel Hernandez, Warner Hunter, Jeremy Thomas, Maurice Haynes and Khaveh Konteh.
Highlights of the pageant consist of spirit wear, talent show, fashion parade and the question and answer session. In a brief chat, Brent Bainwol, the 2012 Mr. Stallion and this year's winner, said of his winning streak, "I think I won because of my guitar."
Indeed, the man with the "magic fingers," according to Keaton Tettlebach, a senior and one of the masters of ceremony, held the audience spellbound with his dexterity on the guitar during the talent show segment.
Bainwol, who started playing guitar at the age of 9, won a talent show in sixth grade playing "Johnny B. Goode" by Chuck Berry. His dream is to be a lawyer or a businessman in the future. On what makes him different from other contestants, he retorted, "I always think of little things, people remember little things."
For Mark Gavino, the 2011 winner, who won the audience's heart with his dance, "hard work and responsibility" are cardinal principles he took from his parents, who migrated from the Philippines. He said of himself, "I am a very nervous and shy person, but for some reason I like the spotlight." On his preparation for the event: "I tried to shake off butterflies and pray for God's blessing. I stretch and slap myself to get rid of nervousness." His participation in the Mr. Stallion event has inspired his close friend Densiq Campbell to partake in this year's contest.
The duo of Whitney Turner and Phil Khoury, both seniors, also added color to the occasion with their rendition of "Ho Hey" by the Lumineers.
Other contestants also gave a good account of themselves in the various segment of the pageant: Angel Hernandez, best hair; Maurice Hymes, Mr. Congeniality, and Mark Gavino, best smile.
The annual event, which also featured a raffle draw, was hosted by the sophomore class and was intended to raise money towards their prom in the junior year. The Mr. Stallion Committee was co-chaired by Katie Cummings and Emma Wilson; members were Danielle Hoang and Jennifer Wendt.
At the end of the night, Warner Hunter emerged the second runner-up and Jeremy Thomas the first runner-up, while Brent Bainwol retained his crown as Mr. Stallion 2013 and walked away with the "bragging right."