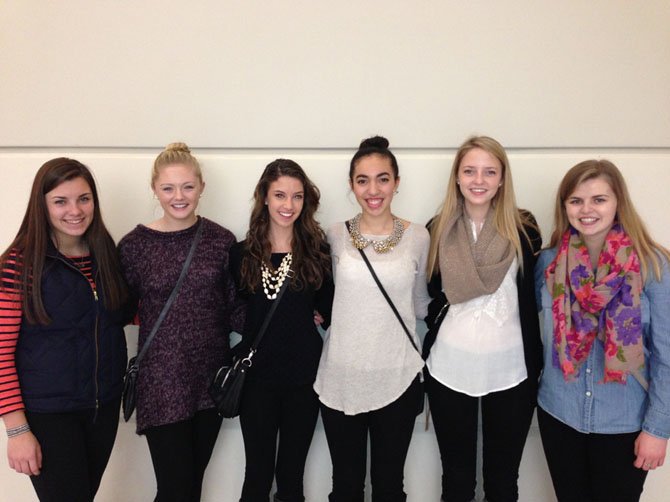 McLean — While sitting in their Introduction to Marketing Class, several Langley High School sophomores decided that they enjoyed it so much, they would try it in real life. Almost a year later, the members of the Pyramid Marketing Group are finding success working to promote local charity and school events.
"A lot of us found that marketing was something we wanted to do after college, so we got some interested people together and tried to get some experience," said Haley Falkenberry, a member of the club. "Since then, we've been learning a lot of ways to reach out to all kinds of groups in the community, from students, to families and businesses."
Falkenberry, Alex Grieco, Mary-Hagen Grow, Lainey Dooley, Caroline Jackson and Amanda Baird make up the group, which aims to eventually work with all the schools in the Langley pyramid, which also includes Cooper Middle School, Colvin Run, Churchil Road, Forestville, Great Falls and Spring Hill Elementary Schools.
SEVERAL MEMBERS attended Colvin Run, so that was the first place they reached out to, and they've already found events to work on.
On Saturday, Feb. 9, the school will host a Stop Hunger Now Event, which packages nonperishable meals for hungry people around the world.
"The goal for the Feb. 9 event is to package 100,000 meals, so we've been printing up flyers, and we designed cans to place at local businesses," Dooley said. "We leave them on the counter, and they collect donations, like change, which will go to supporting the event."
Designing the change jars has also given the group a chance to work on graphic design, trying out different logos, fonts and other elements.
"We'd never done any of that stuff, but it was a lot of fun trying out different designs and seeing which ones grab the most attention," Grieco said.
The school will also host its 10th anniversary gala Saturday, March 16, and Pyramid has already been hard at work collecting donations for the fundraising auctions, as well as other sponsorships.
"It's been fun actually getting out there and doing marketing work," Grieco said. "Colvin Run is using their auction to raise money for a Science, Technology, Engineering and Math lab, as well as new fitness equipment, which is a good cause, and we want people to know about that."
Another special event the Pyramid Marketing Group is working on is sports equipment consignment sale.
"We've been able to use more traditional ways to market the consignment sale, sending out e-mails to parents and families," Grieco said. "We've also been reaching out to the sports leagues and going door-to-door in some cases to let people know about what's happening."
The group is also getting experience bringing awareness to more long-term initiatives.
Spring Hill Elementary has started an environmental initiative, collecting unused food and donating it to local food banks, as well as recycling and composting.
"We've been helping Spring Hill out with internal marketing efforts, trying to make the parents and students in the school community aware," she said. "It's really been taking off for them this year."
THE GROUP is already learning the ways to market to different groups within the community.
"We've found that students get a lot of information from the morning announcements, but we've gotten the stronger responses from parents," Dooley said. "Fundraising is obviously something that is easier with parents as well."
Grow said that the skills they're learning will help them in future marketing endeavors.
"Doing it in real life will help all of us if we want to make it into a career," she said. "We've made a Twitter and Facebook account for the marketing group, and we've been using those to help promote the Stop Hunger Now event. Hopefully after this we'll be able to expand our reach further as we get more projects under our belt. We've also learned how to be prepared when contacting businesses, you have to be ready to answer any questions they're going to ask."
The group can be found on Facebook under Pyramid Marketing Group, at www.twitter.com/PyramidMrkting and at www.pyramidmktgroup.weebly.com.