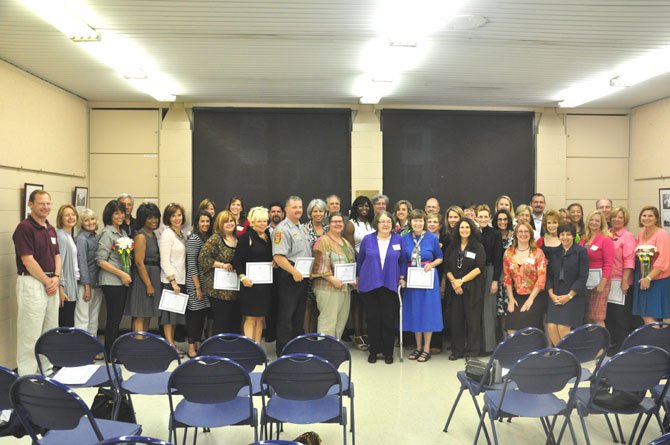 McLean — The Safe Community Coalition honored dozens of individuals and organizations at their annual members meeting Tuesday, June 5 at the McLean Community Center. The primarily volunteer-run organization coordinates various activities and events designed to raise awareness of issues faced by youths, mostly in the Langley and McLean High School pyramids.
"The Safe Community Coalition is proud to receive amazing support from our local businesses, schools and other organizations," said Debbie Witchey, president of the SCC board. "With so many people working together, it's amazing what we've been able to accomplish."
Susan Mayman and Karen Calpin were honored as volunteers of the year. Mayman helped coordinate the showing of the film "Race to Nowhere" at Langley High School and Witchey credited her with always being hands-on.
"She brings in ideas all the time, but she doesn't just leave it on our doorstep, she helps implement them," Witchey said. "The showing of 'Race to Nowhere' helped bring up conversations around the community that are still going on today."
Calpin will serve as recording secretary for the SCC during the 2012-13 year, and also serves as liaison to McLean High School and school coordinator for the SCC.
"She's probably the most flexible and giving person I know," Witchey said. "When we need to get the pulse of this community, Karen is out there, and she's taken the school coordinator position to new levels."
Volunteers were involved in everything from collecting unused and expired medications (more than 100 pounds during the year), interfaith breakfasts, an ethics day for students and even a campaign for elementary school students to write letters to seniors before prom reminding them that they are role models for younger students.
Other groups helped the SCC put on programs designed to raise awareness about underage drinking, dating abuse and mental health.
"We've had some incredible partners when it comes to health and prevention, just a few weeks ago the Josh Anderson Foundation and Active Minds helped put on a great program with some ingenious fun ways to reduce stress right before AP exams," said Nyka Jasper Feldman, executive director of the SCC. "The United Prevention Coalition has also been an incredible partner, helping with an incredible presentation about college drinking culture, and they brought an all-star panel of experts as part of those programs."
The SCC also recognized representatives from Langley and McLean High Schools, Cooper and Longfellow Middle Schools, Colvin Run and Chesterbrook Elementary Schools. Feldman highlighted the efforts of MaryAnn Lastova, outgoing McLean High Schools PTSA President, Betsy Shoemaker, Langley PTSA president and Wilma Bowers, McLean High PTSA officer and president of the Longfellow PTSA.
"They're our biggest outreach workers," Feldman said. "I cannot count how many programs have been possible through the efforts of these women."
More information on the SCC can be found at www.safecommunitycoalition.net.