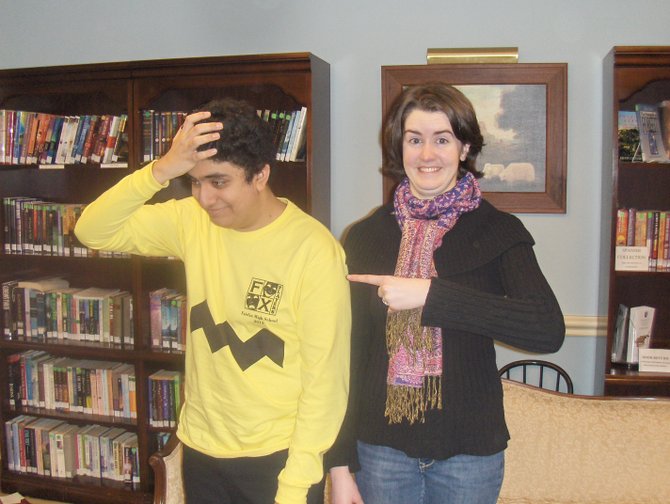 Charlie Brown, Lucy, Linus, Schroeder—the whole "Peanuts" gang—shows up for Fairfax High's production of "You're a Good Man, Charlie Brown."
The curtain rises Friday, Feb. 8, at 7:30 p.m.; Saturday, Feb. 9, at 11 a.m. and 7:30 p.m.; and Sunday, Feb. 10, at 2 p.m. Tickets are $10 for adults and $8 for children at HYPERLINK http://www.fxplayers.org www.fxplayers.org or, at the door, $15 for adults and $10 for children. Children ages 5 and under are free with adult purchase (one child per adult).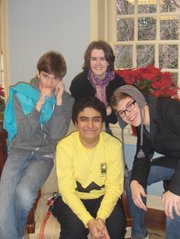 "It's basically a typical day in the life of Charlie Brown," said Director Wendy Knight. "He wakes up to get ready for school, and we later see him at lunch, pining for the little red-headed girl. We also see him at baseball practice and glee-club rehearsal and finally at night, just before he goes to bed to end the day."
THE CAST AND CREW of about 20 have been rehearsing since early December, and Knight says her young thespians are doing a great job. "The show is so cute and fun, and the actors are adding their own spin on things," she said. "For example, they're coming up with pieces of blocking that really add to all the characters."
She said the audience will enjoy seeing a play about characters they're already familiar with and will like the family-friendly songs and scenes. Said Knight: "It's a show that really unites generations—grandparents who grew up with 'Peanuts' and young kids discovering it for the first time."
Senior Shakil Azizi portrays Charlie Brown. "He's a normal, happy little boy who doesn't have confidence in himself," says Azizi. "He does great things in everyone else's eyes and is an all-around nice guy. But he thinks he's a failure and inferior to others because he doesn't have their talents."
Azizi says it's his most challenging high school role because he has to play Charlie as an innocent child and a real person because he's so well known. So Azizi recalls his own childhood and what his dreams were at age 6. "It's a lighthearted show and people will see how funny kids are," he said. "We've worked hard and have such great talent, and the audience will love the singing. This show is humorous, dorky and real and, at some point, we were like that, too."
Playing Lucy is senior Isabelle Baucum. Although some may view Lucy as "ornery and mean-spirited," said Baucum, "I think she knows who she is and cares about what's happening now, like children are. In 'Peanuts,' they see the world as full of magical possibilities ready to be harvested. And Lucy engages that quality of childhood with self-assertiveness, gusto and fire in her belly."
Baucum enjoys playing with Lucy's comedic timing and calls her dialogue "all over the place. She's a creative girl, and I'm excited to play someone who expresses that enthusiasm she has for her life." Baucum said the show's fun music, bright colors and storyline will appeal to children, but adults will like it, too.
"They'll appreciate the irony and understated, comedic moments, and everybody knows 'Peanuts,'" she said. "It's an American icon and something they grew up with, so they'll like seeing it come alive before their eyes."
Senior Olivia Ballard plays sports-enthusiast Peppermint Patty, who's usually holding a basketball or soccer ball. "It's fun to embrace her tomboy side," said Ballard. "She loves to kid around and live it up. She's best friends with Marcie, played by Sara Moustaid, and she and I have fun interacting with each other."
HAVING HIGH SCHOOL RESPONSIBILITIES in real life, said Ballard, it's great "playing a character who doesn't have our worries, like getting into college. We have a decent group of actors and everyone will enjoy this show. It's simple enough for kids to buy into its magic and comedic enough for teens and adults to find amusement in as well."
Senior Derek Yost plays Schroeder, a "magnificent piano player who lives in his own dream world of music," said Yost. "So anything that gets in his way—like Lucy or the real world—annoys him. There's a lot of body language, head movements and facial expressions to him, especially when he's playing piano, and they convey his feelings. The show's high-energy and we get to play around with our characters and be goofballs."
Portraying Linus is senior Chad Helig. "He's innocent, but philosophical," said Helig. "What comes out of his mouth is profound; he's an interesting and versatile character to play. I can act like I'm 5, but sound like a Greek philosopher. In a children's play, you use heightened motions to make things even funnier, and kids will fall in love with both the story and the characters."