Individuals in crazy costumes and creative flair will take over Lake Anne Plaza in Reston once again for the 6th Annual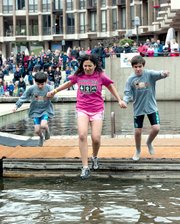 Freezin' for a Reason Virginia Polar Dip on Saturday, Feb. 2.
The event will kick off at noon with family friendly activities and warm-up—with the dip scheduled to take place starting at 2 p.m. Last year's event drew record crowds of both spectators and jumpers raising over $76,000. Registered participants will take a chilly full plunge or a "Chicken Dip"—to raise funds for Camp Sunshine, a national year-round retreat for children with life-threatening illnesses and their families.
What: 6th Annual Freezin for a Reason Polar Dip
When: Saturday, Feb. 2
Where: Lake Anne Plaza (Waterfront)—1609 Washington Plaza, Reston, VA 20190
Time: Noon-3 p.m. (Registration, Activities, Post-Dip Celebration. Actual Polar Dip Begins at 2 p.m.)
Cost: $100 minimum donation to plunge and is open to anyone willing to brave the elements for a good cause. Free to spectators. Rain or shine (will be rescheduled if major snow storm is forecast).
Website(s): www.freezinforare... www.campsunshine.org www.lakeanneplaza...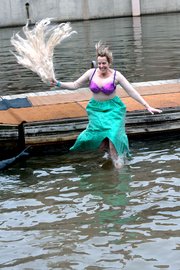 The creation of the Virginia Polar Dip was started in 2008 by the Northern Virginia based Toth family after a long history with Camp Sunshine. They first attended Camp Sunshine as a participating family in 1996 when their daughter Jennifer was a cancer patient at age 3, and they have returned as volunteers every summer since. After Jennifer participated in a Camp Sunshine Polar Dip in New Jersey, her family decided to bring the event to Virginia in order to help more local families. Since 2008, 480 people have participated in the Virginia Polar Dip raising over $232,700 for the camp. The camp organizes 11 polar dips on the East Coast each year. The event will be emceed by Mix 107.3 radio personality Chilli Amar.
Celebrating their 28th year, Camp Sunshine is nestled alongside the shores of Sebago Lake and provides respite, support, joy and hope to children with life-threatening illnesses and their immediate families through various stages of a child's illness.
This year's goal is to raise $100,000 which will allow 50 families from the Mid-Atlantic area—including Virginia, Maryland, Washington, D.C., Delaware, West Virginia and North Carolina—to come to Camp Sunshine. Through pledges or self-sponsorship, each participant will raise/donate a minimum of $100 for the opportunity to plunge into the frigid waters, and will receive a commemorative "I DID IT" event shirt. Spectators are welcome to come and cheer for the plungers.
The event is sponsored by Lake Anne, David Madison Photography, Fairfax Christian School, ING Financial, Jasmine Café, Reston Association, Reston Community Center, Mix 107.3 FM, Sheraton Reston Hotel, Spotted MP Marketing & Public Relations, Tropical Smoothie Cafe. For more information about the event or to register to participate, visit www.freezinforareason.com or become a Facebook Fan (Virginia Polar Dip) and view pictures from previous dips.