The Vienna-area hosts a variety of fun indoor events during the cold season. From live theatre to live music, from food and gaming to Washington's most revered political satire, there's a bit of something for every interest.
Neil Simon's nostalgic play, "Proposals," is presented in Vienna on Jan. 25, 26, and Feb. 1, 2, 8, and 9 at 8 p.m. and Feb. 3 and 10, at 2 p.m. in the auditorium of the Vienna Community Center. The play focuses on the dynamics of a multi-generational family and their loves and ex-loves.
Tickets for the Vienna Theatre Company's production of Proposals are on sale at the Vienna Community Center, 120 Cherry Street SE. Tickets are $13 general admission and $11 for students and senior citizens over the age of 65. For more information, call 703-255-6360 or visit www.viennava.gov or www.viennatheatrecompany.org/.
20th Annual Casino Night and Taste of the Town—sponsored by the Tysons Regional Chamber of Commerce—brightens Vienna on Saturday, Feb. 16, 7 p.m. to midnight at Westwood Country Club, 800 Maple Ave. E, Vienna.
Gaming tables feature blackjack, craps and routlette. Some of the area's most popular restaurants offer little plates for tasting. There's music, a cash bar, raffle and silent auction. Ticket includes food, two drink tickets, $25,000 in gaming cash and 20 raffle tickets.
Advance-purchase tickets are $85, and tickets at the door are $95.
Go to www.vtrcc.org to order tickets or for more information or phone 703-281-1333.
This event supports the drug and alcohol-free All Night Graduation Celebration. For information, contact madisoncapitolsteps2013@gmail.com.
Live music—Monday through Saturday, Maplewood Grill, fronting Branch Road, across from Giant Food, offers live music to accompany dinner and drinks. It's not unusual to see couples taking a spin on the dance floor.
A Vienna institution, Maplewood Grill is owned by the same family since it was originally named Le Canard. The food is more nouveau-American than European nowadays but it sparkles under the leadership of owner and executive chef, Paul Kuchler. In a nod to dad Marcel's background, Wiener schnitzel is a menu staple. The Alsatian bacon, prosciutto, roasted onion and Gruyère flatbread is a standout.
Maplewood Grill offers Vienna's only nightly music entertainment. The music begins at 8 and runs until 10:30 p.m.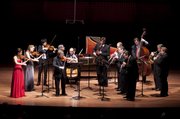 Monday is Jazz Jam night, starting at 8 p.m. Hosted by drummer Karl Anthony, the "jam" invites any musician with his own instrument to join in.
Lou Neeley performs every Tuesday, 8-10 p.m. A jazz, blues and ballads artist, Neely plays the piano, keyboard and guitar.
Pianist Reinhardt Liebig plays popular, blues, jazz and classical standards on Wednesdays, Fridays and Saturdays, starting at 8 p.m.
Terry Lee Ryan, pianist and vocalist, performs on Thursdays, 8-10 p.m. He plays blues, popular standards and New Orleans-style renditions.
Call 703-281-0070 for reservations or reserve a table at www.maplewoodgrill.com.
First Sunday Jazz Brunch at Bazin's on Church in Vienna launched on Jan. 6. The series continues monthly on the first Sunday of each month. Enjoy Bazin's signature brunch dishes to the accompaniment of live jazz. Reservations can be made at www.bazinsonchurch.com or 703-255-7212.
Bazin's on Church is at 111 Church St. N.W.
The Barns of Wolf Trap at Wolf Trap National Park for the Performing Arts is not just for summer. During the cooler months when the Filene Center is not presenting shows, the Barns of Wolf Trap take over musical entertainment duty.
From John Eaton's pop standards on Feb. 16 to the comedy of Second City on March 21, there is a performer for every genre.
The Barns of Wolf Trap is located at 1635 Trap Road, Vienna, in a stand-alone building removed from Filene Center grounds.
Tickets can be bought online or at the Wolf Trap box office. See http://www.wolftrap.org/Barns.aspx for schedule and pricing.
Jammin' Java—Contemporary music lovers come from throughout Northern Virginia for the live evening shows at Jammin' Java. Artists come from all over the country to play at Jammin' Java. Although there is a café, it is the live bands that draw in the crowds nightly.
For schedule of shows, go to www.jamminjava.com
Jammin' Java is at 227 Maple Avenue East.
Especially for Children
From libraries and community center to music venue and sports facilities, the Vienna-Oakton area serves children with a diversity of pastimes and interests.
Patrick Henry Library in Vienna and Oakton Library in Oakton offer a selection of preschool-focused presentations, from story-and-song to live animal shows and science programming. Programs at both libraries require registration, which can be done online or by phone. See the "events" link for schedule.
Patrick Henry Library
Toddlin' Twos and Rock-a-bye Baby to Pokemon and Wii—703-938-0405, 101 Maple Ave. East, Vienna
http://www.fairfaxcounty.gov/library/branches/ph/.
Oakton Library
Wednesday, preschool stories and presentations—10304 Lynnhaven Place, fronts Hunter Mill Road, across the shopping center, Oakton
http://www.fairfaxcounty.gov/library/branches/ok/.
Jammin' Java
Every Thursday and Friday morning, Jammin' Java turns its stage over to the preschool set. From Rocknoceros and their kiddie-rock to magician The Great Zucchini, Jammin' Java features performers that are among the region's most popular. Beginning in January, 2013, Jammin' Java presents a morning show at 10:30 a.m. and a lunch-hour show at noon.
New weekday schedule is: Thursday, 10:30 a.m, The Great Zucchini, and at noon, Oh Susannah!; Friday, 10:30 a.m., Rocknoceros, and at noon, The Grandsons, Jr. Occasionally, Jammin' Java hosts a Saturday show.
Tickets, at $5 per person plus a $1 service fee, are available for advance purchase online and at the door on show day. Jammin' Java is at 227 Maple Ave. E.
Vienna Community Center
From musical theatre workshops for elementary-school aged children to pre-school music or gymnastics, there's a diversity of classes running through the winter to keep any young child busy. Go to http://viennava.gov/. The Vienna Community Center is on Cherry Street, between Park and Center Streets, adjacent to the W & O trail.
Family Skate Night at Vienna Community Center operates on Friday evenings through March 22, 6:30 to 8 p.m. 120 Cherry Street, S.E. Admission is $1 per person, and participants must bring their own roller skates or in-line skates and safety equipment (no scooters). Parents are required to stay with their children and are welcome to participate. No registration required. For more information, call the Vienna Parks and Recreation Department at 703-255-6360 or visit www.viennava.gov.
Blue Box Sports—soccer and baseball skills
Is there a little slugger or "soccer tot" in your house? If so, Blue Box Sports, with a facility at Tysons Corner, has the coaches and venue for children to find their places in sports history.
Spring registration is open. Soccer tots is for kids 18 months to 6 years old and Lil' Sluggers take children 2 to 5 years old. For pricing, see website or call.
The "Tysons Playground" is at 8500 C Tyco Road.
Registration is online at BlueBoxSports.com or over the phone at 703-953-1667.