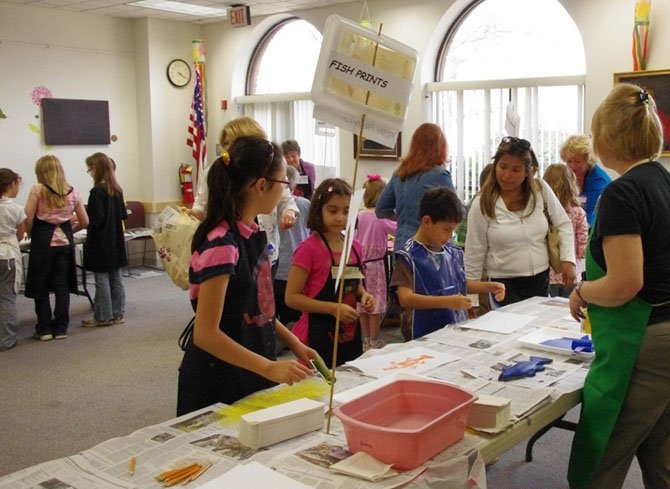 Maybe there is not a plethora of outdoor activities — there are some — but there are a myriad of indoor activities and events that appeal to adults and to children. Chances are you will find something here to do next week … and the week after.
The Vienna Theatre Company presents "This," a humorous take on the tribulations of friends of a certain age — 40-ish.
The five characters face great changes in their lives, from the birth of a child to the death of a spouse to the search for love, with infidelity thrown into the mix.
"This" has adult language and is not appropriate for children under 16. Tickets are priced at $13 each for adults and are available for purchase at the Vienna Community Center, 120 Cherry Street, SE, or at the door on performance day. Shows are on Jan. 24, 25, 31, and Feb. 1 at 8 p.m., and at 2 p.m. on Feb. 2 and 9.
Call the community center at 703-255-6360 for weather cancellations. For more details on the production, go to www.viennatheatrecompany.org/
PHILADELPHIA FLOWER SHOW TRIP sponsored by the Town of Vienna Department of Parks and Recreation, Wednesday, March 6.
A charter bus leaves the Vienna Community Center at 8 a.m. and returns at approximately 7 p.m.
The 2014 Flower Show is a collaboration of flower show designers and the nation's great art museums, turning the Pennsylvania Convention Center into a 10-acre canvas of landscapes, gardens and floral arrangements.
The cost of the day trip is $69 for Town of Vienna residents and $86.25 for out-of-town participants. Cost includes transportation and admission to the show with all-day re-entry privileges. Registration required.
For more information, call Vienna Parks and Recreation at 703-255-6360 or register online at www.viennava.gov.
"SOUVENIR: A FANTASIA ON THE LIFE OF FLORENCE FOSTER JENKINS" opens at 1st Stage on Feb. 7 and closes on March 2.
The production centers on the life of an eccentric real-life heiress who could not distinguish fantasy from reality. As bad as her voice was, she packed recital halls. She even performed at Carnegie Hall in 1944.
Show times for "Souvenir" are Fridays at 8 p.m.; Saturdays at 2 and 8 p.m.; and Sundays at 2 and 7 p.m. General admission is $27. Student and military tickets are $15. Group discounts are available. Tickets can be purchased online at www.1ststagetysons.org or by calling the 1st Stage box office at 703-854-1856. "Souvenir" is appropriate for all ages.
1st Stage, a professional theatre, is located in an industrial center in Tysons, at 1524 Spring Hill Road, Tysons Corner. For the season's schedule of plays, go to www.1ststagetysons.org.
Casino Night to benefit The Boys and Girls Clubs of Greater Washington, Fairfax County region.
The Ritz-Carlton of Tysons Corner is hosting a benefit on behalf of the Boys and Girls Clubs of Greater Washington, Fairfax County Region, on Friday, March 7, from 6:30-11:30 p.m. The event is open to the public.
Casino night admission includes an open bar, dinner buffet, gaming, and dancing. Live and silent auction prizes include weekend get-a-ways, dinner at award-winning restaurants, hotel-dinner-limo packages, sporting event tickets and more.
Guests receive funny money and a bidder number. Use the winnings from Black Jack, Texas Hold 'Em, Craps towards raffle tickets for prizes.
Tickets are priced at $95 per person or $175 per couple. The Ritz-Carlton offers a Casino Night overnight room rate specially-priced at $119.
Free artist demonstration sponsored by the Vienna Arts Society on Thursday, March 13, from 10 a.m. to noon.
Prominent artist Chica Brunsvold creates her whimsical, colorful and complex paintings on yupo paper. The March exhibition at the arts center highlights "Great Escapes," featuring paintings inspired by her travels.
Enjoy light refreshments served. The Vienna Arts Center is located at 115 Pleasant St., NW, Vienna.
Phone 703-319-3971 or see www.ViennaArtsSociety.org for information and schedule of events.
Vienna Choral Society sings lullabies from around the world on Saturday, March 15, at 4:30 p.m. at Vienna Baptist Church. To set the sleepy-time mood, VCS singers will perform in pajamas. The performance will appeal to children and grown-ups alike.
Tickets are priced at $25 for adults, $20 for seniors (65+) and for students (15 - 18); free for youth 14 and younger with a paying adult. Purchase tickets at door.
Vienna Baptist Church is located at 541 Marshall Rd., SW, Vienna. For more information, see www.viennachoralsociety.org.
ON-GOING
Culinaria Cooking School
From hands-on workshops of the foods of the world to children's cooking classes and wine-pairing dinners, Culinaria embraces the fun and diversity that is food. On most Saturday mornings, a kids' class is offered. There are couples-dinners, ladies' night out, themed ingredients and a romantic Valentine's Day wine dinner. Feb. 6 features a chocolate-making class, while Feb. 12 features healthy eating. Culinaria is "recreational" cooking instruction at its most sublime. Prices for individual classes begin at $65.
Culinaria Cooking School is located at 110 Pleasant Street NW, Vienna.
For more information on classes, go to www.culinariacookingschool.com/ or e-mail info@culinariacookingschool.com. The school's phone number is 703-865-7920.
Live music at Maplewood Grill
Jazz, pop piano, and blues music are performed at Maplewood Grill in the bar. Tuesday through Saturday evenings, 8 to 10 p.m. Maplewood Grill is at 132 Branch Road S.E. in the Danor Shopping Plaza. Phone 703-281-0070 for dinner reservations.
Weekend "jams" at Caffe Amouri
Neighborhood coffee house Caffe Amouri hosts "The Beat" on Saturday nights with scheduled musical artists. Admission is free.
Friday night is "club night." Caffe Amouri plays records – yes, records, and lays out games for patrons to use. Saturday night features "The Beat," a hosted open mic night. Usually a host is there to introduce the scheduled line-up of musical artists. It's open to the audience, as well, what the Hawaiians call "kanikapila." It's been a popular Saturday night resource in Vienna.
See www.caffeamouri for schedule of entertainment.
Vienna-Oakton Moms Run This Town
While many local people cannot imagine running in 25 degrees — some cannot even imagine going outside to pick up the newspaper at 25 degrees — it's evident that many runners here love winter runs. And the Vienna-Oakton chapter of "Moms Run This Town" maintain a daily schedule of runs throughout the winter months. Membership is open to any woman although most of the runners are "moms." It's a tight-knit group. When a NoVa member was struck and killed by a drunk drive in mid-January, the Vienna-Oakton chapter dedicated a run to her.
To join, go to www.facebook.com/groups/vienna.va.mrtt/.
The Barns at Wolf Trap offers musical programming through the spring. Artists range from the jazz pianist John Eaton to world music and oldies singers such as Chad & Jeremy. The Oakridge Boys, Hapa and David Crosby are counted among the headliners.
Ticket prices vary.
The Barns of Wolf Trap is located at 1635 Trap Road, Vienna, in a rustic setting.
Visit www.wolftrap.org for schedule and ticket sales.
Patrick Henry Library offers programming for pre-schoolers, from storytime to music and dance.
101 Maple Avenue East
Vienna, VA 22180-5794
Telephone: 703-938-0405
http://www.fairfaxcounty.gov/library/branches/ph/ for hours and event schedule.
Oakton Library offers storytime and activities for preschoolers.
10304 Lynnhaven Place
Oakton, VA 22124-1785
Telephone: 703-242-4020
http://www.fairfaxcounty.gov/library/branches/ok/
Culinaria Cooking School offers Saturday morning children's cooking classes: Pasta-making, tapas, global cuisine and baking. Mexican food and pizza are popular with the youngsters.
Prices range from $60 per student to $95 for both parent and child.
Culinaria Cooking School is located at 110 Pleasant St. NW, Vienna, in a low-rise brick building. The facility is state-of-the-art.
For more information on classes, go to www.culinariacookingschool.com/ or e-mail info@culinariacookingschool.com. The school's phone number is 703-865-7920.
The Vienna Arts Society and Patrick Henry Library co-sponsor the Annual Free Children's Printmaking Workshop on Tuesday, March 25, from 4 to 5 p.m. in the library's conference room.
A dozen local artists will assist children ages 7 - 12 as they print a fish, create relief prints, mono-prints, and other prints.
Contact the Children's Librarian to register: 703-938-0405. Patrick Henry Library is located at 101 Maple Ave. E, Vienna