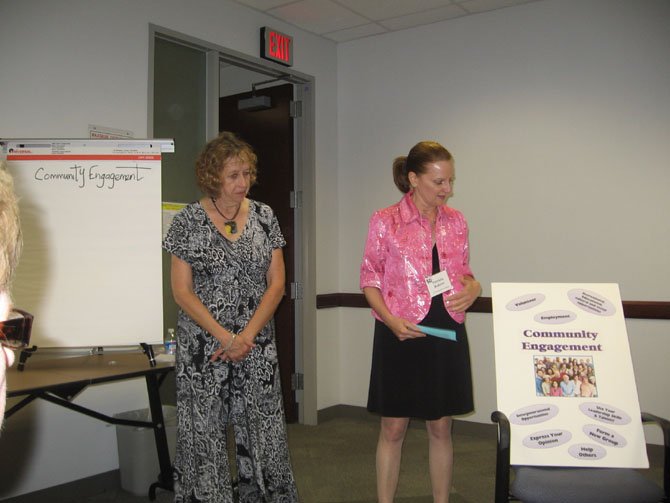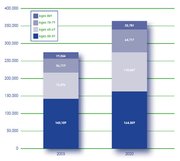 The 50+ Action Plan Community Forum held in the South County government center on June 19 was one of numerous forums to be held county-wide over the next several months as part of an effort to update an Older Adults Action Plan initially adopted by the county in 2007.
The purpose is to seek input and ideas for the drafting of an updated Older Adults plan by the end of the summer. It will then go to the Board of Supervisors.
Approximately 55 people attended the Mount Vernon-area forum. The facilitators broke up the session into five groups: Housing; transportation; community engagement; safe and healthy communities, and services. Supervisors Gerry Hyland and Jeff McKay had scheduling conflicts but sent staff representatives to attend the session. Barbara Sullivan, executive director, Mount Vernon At Home (MVAH), a privately funded seniors "village" which provides a variety of support services to senior citizen members — now numbering 177 dues paying members — was in attendance and participated in the group sessions.
Details
To share comments and ideas on creating a more friendly older-adult community: DFScommunity@fair... or calling 703-324-5411
For information on senior services or recreational activities for older adults, contact the Aging, Disability, and Caregiver Resource Line at 703-324-7948 or visit: www.fairfaxcounty...
Also, available on the web page is information on how to subscribe to the county's e-newsletters, Fairfax 50+ E-News, Caregiver Corner online, and to subscribe to the county's monthly newspaper for older adults: Golden Gazette.
Attendees suggested a variety of needs and wants which were recorded on wall charts and prioritized by subject area and discussed at the conclusion of the brainstorming type sessions. Highlights of some of the suggestions were as follows:
Universal architectural design standards needed to allow for improved access by seniors to residential and commercial buildings

Lengthen traffic light times to allow seniors sufficient time to cross the street.

Create more walkable neighborhoods throughout Mount Vernon.

Expand affordable housing for seniors.

Expand Meals on Wheels program to include seniors in need of nutritionally appropriate meals and to seniors who are not low income residents but nevertheless are not mobile and in need of meals assistance.

Provide incentives to encourage more faith-based and other non-profits to recruit volunteers and others to participate in programs that assist senior citizens with transportation assistance, counseling, a broad range of social and health services to those unable to access the services on their own.

Provide greater opportunities for seniors to volunteer and to utilize their professional skills to solve local problems.
One frequently mentioned recommendation was the need to promote a variety of creative efforts to provide transportation assistance to seniors who, for example, need to attend doctor appointments, shop for groceries, and would like to attend recreational events. Lack of transportation and isolation were among the most frequently mentioned overarching concerns.
Sharon Lynn, senior staffer for the county's Area Agency on Aging, is the lead person on the community outreach forums. She said so far these issues were among the most frequently mentioned:
Design and develop walkable neighborhoods.

Promote universal architectural design when retrofitting existing homes.

Come up with creative approaches to encourage neighbor-to-neighbor communications and help for each other; this included but is not limited to development of "villages" which promote neighbors helping neighbors.

Promote the creation of community friendly cafes, delis, and meeting places for seniors to hang out with each other in contrast to the senior centers. Seniors want to be more fully integrated into the community and not isolated in senior centers.
"We have to come up with solutions for seniors that are not walkable but do not qualify for social services because they don't meet the income test," said Mount Vernon at Home's Sullivan. "Many of the moderate income seniors, and there are a growing number of them, wish to stay in the community but are in need of transportation assistance. It is a key quality of life issue and we are not meeting their needs. A typical Mount Vernon resident who needs transportation assistance is between 65-80+, may be house rich, on a pension, but doesn't want to give up his/her car for fear of quickly losing their independence and becoming isolated. Many of these people should not be driving but they have to because they are not qualified for and therefore lack access to transportation assistance. The county and the private sector have yet to come up with a solution for them.
"Two strategies should be explored: one is to work toward seniors' access to Fast Tran; to provide seniors with access at a discounted ticket rate between 10 a.m.-3 p.m. for seniors. There is sufficient evidence that this is a time of day when there is room for seniors who are not mobile but could be available to access Fast Tran service and the county should be looking at this option. Another option is for the county and the Inova Hospital system to explore using hospital vans to establish a van pickup schedule so that seniors in need of transportation can be driven to the Inova clinics and hospitals for exams, attend rehab sessions, or to pick up their prescription medications. They could even be charged a nominal pickup and drop off fee. We need funding for transportation assistance to those needy seniors who, because they are not low income people or disabled and thus do not qualify for transportation and other services, but still need access to a variety of transportation assistance. Lack of mobility, lack of a connection to transportation assistance, especially in the many areas that are not walkable, or the senior lacks the ability to walk to needed services, is a key factor in discouraging seniors to age in place in their community.
Funding
The 2014 adopted budget for services to older adults is $74.7 million, or 2.1 percent of the General Fund disbursements of $3.6 billion. Excluding General Fund Transfer to public schools and debt service of $1.9 billion, spending for older adults is 4.4 percent of the General Fund. Approximately 22 percent or over 237,000 Fairfax County residents are 55 and older. Budget data provided by the Fairfax county government Office of Management and Budget. Population data provided by U.S. Census Bureau based on 2010 Census.
"Finally, we need a different attitude about our senior citizens. My view is we need to adopt a policy of equal distribution of assistance to needy seniors comparable to that provided to low income people. Without a serious effort at rethinking services to seniors the county's fastest growing needy minority, seniors 50-80+ will continue to suffer from isolation and neglect. Here in Mount Vernon we have the highest number of seniors in the county, and it is right here that a true test of our ability to manage the needs of seniors among all income groups should begin. The 50+ Community Forum is a very welcome initiative and I look forward to reviewing their updated countywide plan. We should challenge our county and state elected officials to pursue creative approaches to solve problems by promoting public-private partnerships, expanding the villages concept in all areas of the county, taking action to establish funding levels and propose organizational changes in the county's bureaucracy to make it possible to raise awareness and meet the identifiable needs of our older adults."
Pat Herrity, chairman of the 50+ Committee, said, "The community outreach effort is intended to engage the community and get their input in preparation for an updated Older Adults plan. Our goal is for the board to be fully prepared to handle what I would like to call the 'Silver Tsunami.' We are committed to coming up with a comprehensive strategy to meet the needs of all our needy seniors and I look forward to reviewing the ideas and suggestions offered by our citizens and formulating a long-term plan based on their input and those of others."