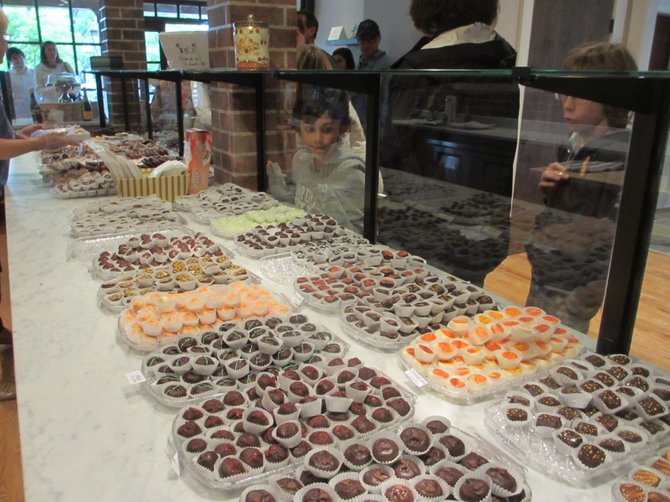 Foodies, rejoice … several new food-focused shops have opened recently in Vienna and, already, they are attracting a following.
Over on Church Street, Cocoa Vienna launched in late-May with a non-traditional grand opening—the cracking of a chocolate "champagne" bottle. Co-owner Staci Meruvia was born and raised in Vienna and her parents still live in the house Staci was raised in.
Cocoa Vienna uses a high-end proprietary-grade cocoa, the beans of which are from western Africa and Central America. While the candies are not cheap, they are buttery-rich and flavorful. Tasters said so.
"It's fantastic," said Bridget Halsall. "I feel as if I'm in a chocolate-lovers' Disneyland. What a great addition to our Vienna."
There are sea-salt topped chocolate caramels, ganache creams—some spirit-infused, marzipan, traditional candy store chocolates and confections, and more. Chocolate re-creation of objects is whimsical and artful.
Prices at Cocoa Vienna come in at approximately $21 a half-pound, about $42 a pound. Chocolate lollipops are priced at $3 each. The molded chocolates make unique gifts.
"Cocoa Vienna is a wonderful, locally-owned, non-franchised source of deliciousness," Dan Gropper said.
Also in May, Paisano's Pizza opened on Maple Avenue; the store does carryout, dine-in and delivery. Pizzas range from the traditional to the distinctive, such as Santa Fe pizza and Greek pizza made with gyro meat. Paisano's makes sandwiches and finger-foods, as well.
Paisano's takes order by phone, online and in-person.
Cocoa Vienna is located at 120 Church St. N.E., Suite 100. For hours of operation and to browse through the store's chocolate gallery, go to www.cocoavienna.com. The store's phone number is 703-865-8881.
Paisano's Pizza is at 312 Maple Ave. W. For menu and hours, go to www.pizzapaisanos.com/pizza-Vienna-va/, or call 703-281-7800.