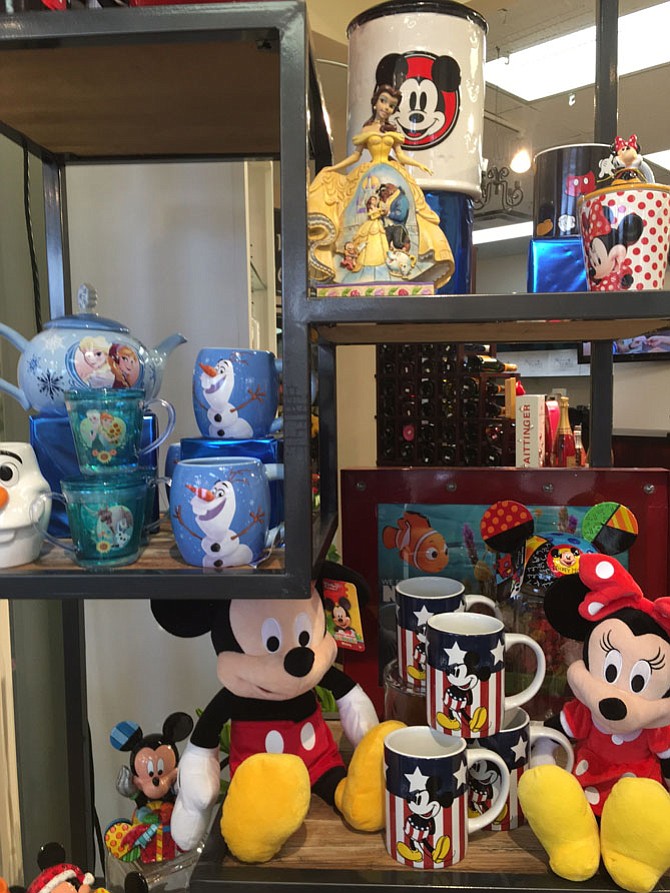 Valentine's Day … Some celebrate it as a special moment between beloveds … for others, it is a family celebration, with children as a central component. For others still, it is just a day …
In light of the multiple interpretations of Valentine's Day celebrations, the Vienna-Oakton Connection looks at gifts compatible with however you think of the day, from grown-up gifts to kids' gifts. Why, you can give some of these to yourself.
Karin's Florist expanded its floral line to include home accessories, from themed ceramics to the bespoke luxuries. Any kid up for a Disney theme tea party? A large authentic teapot is $50; flowers can be added to the decorated teapot. In fact, many of Karin's accessories can incorporate floral arrangements.
There are Disney-themed ceramics and gourmet accoutrements for kids and adult collectors. Brazilian artist Britto designed a line of Disney collectibles and Karin's stocks these.
For the wine-and-dog lover, there are dog-centric wine glasses and figurines. The wine glasses are whimsically-decorated, as lively as the pet in your life. A portion of the proceeds of Pet Line purchases are donated to the Friends of the Fairfax County Animal Shelter. Karin's is also the only local outlet for Lampe Berger Paris home fragrance diffusers.
Karin's Florist, 527 Maple Ave E, Vienna; Phone: 703-667-4790.
Now that you have that fancy dog-friendly wine glass, why not put something human-friendly in it?
Vienna Vintner has all the wines you've heard of and the wines you have not, all at a competitive price. Vienna Vinter owner Victor Mendes says that sales of sparkling wines – including DOC Prosecco and Spanish Cavas - are up about 30 to 35 percent over the past three to five years. Sparkling wines are no longer just for special occasions; people have discovered they tickle the palate any time. Mendes recommends the $14 Gasparini Prosecco and the Canals & Munne' brut Cava at $15 as very good values.
For a Valentine's Day gift that is unique, give a bottle of Mendes's personalized California blend, Hug, a blend of 54 percent Sirah, and 46 percent Grenache. Vienna Vintner offers daily tastings of Hug, selling at about $30 a bottle.
Victor or Jackie are the wine experts here; ask for personalized suggestions. The staff knows their regular customers by name and what their interests are.
Vienna Vintner, 233 Maple Ave E, Vienna; Phone 703-242-9463.
Coffee lover in your life? Earnest coffee aficionados love their French presses and Caffe Amouri has both the press and the coffee to go along with it. Featured beans run from about $12 a bag to $18, and the shop's preferred French press sells for $40.
One of the reasons that Caffe Amouri is supported so loyally by the community is because very few businesses give back to the community as much as Caffe Amouri does. The green beans are roasted in small batches on-site. Owner Michael Amouri is a bean connoisseur and trains his baristas to be well-informed about the shop's coffee products. The staff knows their coffee.
Caffe Amouri, 107 Church St NE, Vienna; Phone: 703-938-1623.
Chocolate and Valentine's Day are a match made in heaven if chocolate-lovers and Cocoa Vienna are the bar. Chocolate, unlike wine and coffee, is appropriate for any age.
At Cocoa Vienna, the chocolate masterpieces are made by hand, using a highest-quality blend of Central American and Western Africa cacao. Their seasonal pieces, from chocolate-filled chocolate boxes to chocolate-drenched lollipops and Oreo cookies, are works of art. The chocolate is tempered in the shop and all centers are made in-house, as well.
Expect to pay $2.50 for a decorated Oreo, and up to about $70 for large handcrafted chocolate boxes.
Cocoa Vienna, 120 Church Street NE, Vienna; Phone: 703-865-8881.