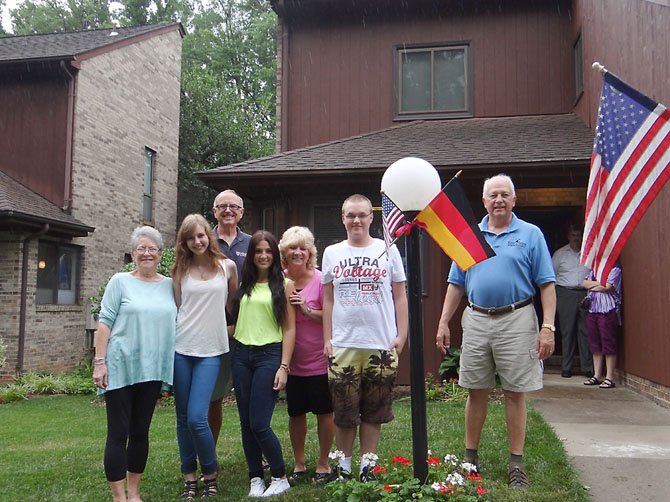 Reston's international ties were recently made a little stronger when three high school students from Berlin, Germany made their first trip to the United States on July 1. Two longtime Reston residents hosted the students during their weeklong stay.
Özge Kayalar, Olivia Kühne and Dominick Zeitz stayed with Alan and Elaine Montgomery, who have lived in Reston for 22 years, until July 8, when they departed for a week in Atlanta, Ga., before returning home to Berlin.
Al and Elaine Montgomery arranged the students' visit along with the Checkpoint Charlie Foundation, an organization dedicated to the continuation of person-to-person friendships between Americans and Berliners.
Al and Elaine Montgomery's ties to the city began when Al, then a U.S. Army train commander, and Elaine, a schoolteacher for the Department of Defense American school system, met there in the late 1960s. In June of 1967, the two were married in the Berlin-American Community Chapel.
"I got there as a second lieutenant fresh out of the ROTC program and two and half years later I left as a captain, married, and on my way to Vietnam," Al Montgomery said. "A lot happened in those two and half years that made it very intense and very special."
Al and Elaine try to return to Berlin every five years. It was during their most recent trip in September 2012 that they visited Lucius Clay High School. There, they talked about living in and defending the city during the Cold War.
"We were there when the wall was up. We spent time there when Berlin was a divided city, and then the wall came down and we were very, very happy." Elaine Montgomery said. "We just fell in love with the city then, and even more so when it opened up to both sides."
Al and Elaine's relationship with the high school continued after they left Berlin. When the Montgomerys suggested a visitation program, the foundation agreed to cover the students' travel costs while Al and Elaine covered expenses during their stay in Reston.
A competitive application process was set up to select the three students that would travel to America, and Kayalar, Kühne and Zeitz were chosen.
"We had to apply first and then we were invited to an interview which was 15 minutes long where we talked in English," Zeitz said.
The students said they were most surprised by the enormous size of everything in America.
"Everything is bigger than in Germany. The cars are bigger and the supermarket is much larger than in Berlin," Kayalar said.
But there's one notable difference the students certainly aren't complaining about.
"Everything is pretty cheap compared to Germany," Kühne said, who discovered the price difference while shopping at Tysons Corner Mall.
Kayalar, Kühne and Zeitz certainly had quite a busy week.
Their visit included stops at the Holocaust Museum, a walking tour of Washington, D.C., and a cookout to celebrate Independence Day.
"We scheduled it around the Fourth of July so that they would have that great American experience," Elaine Montgomery said.
Al and Elaine Montgomery plan to remain involved with the Checkpoint Charlie Foundation after the students return to Germany and already have plans to host students next year. Their friends Dan Biondi, who was a train commander with Al in Berlin, and his wife Becky, who worked for the American Consulate, also hope to host students in the future.
"We believe in world citizenship and fostering these kind of relationships," Al Montgomery said.
For Kayalar, Kühne and Zeitz, the Montgomery's efforts have made a unique American experience possible, one that can't be defined by any one particular event of their visit.
"In my opinion, it's not just big things like the Holocaust Museum," said Kayalar, "it's everything."