On June 30, Troop 158 of Herndon celebrated its 35th anniversary in conjunction with the 2013 Summer Court of Honor. More than 120 people—including a number of former Troop 158 members, Eagle Scouts, adults who were scoutmasters, troop committee members, and their families—gathered to honor achievements, share memories and compare experiences from their time with the troop.
Several speakers, including Committee Chair Paul Thurneysen, Chartered Organization Representative Rory Maynard, Unit Commissioner Tony Petruzzi and Scoutmaster Scott Rakestraw shared how the troop had impacted their own lives. Troop Assistant Scoutmaster and Northeast Region Area 6 Venturing Advisor Catherine Pressler pointed out how much Troop 158 alumni have both directly and indirectly influenced others throughout the Mid-Atlantic region.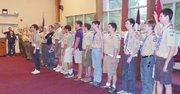 "Everything I know, I learned here in Troop 158," Pressler said. "You are an example. You will never know how many Scouts, leaders and other troops you have influenced over the years."
Several Scouts received merit badges or rank advancements, and four Scouts and two adult leaders were honored by Order of the Arrow Representative Tom Persil for completing their Ordeal.
On behalf of Virginia Delegates Tom Rust and Jim LeMuynon, Luisa Guerra, a representative from Del. Rust's office, presented a special commendation and a Virginia State flag to mark the troop's anniversary. Also celebrated was Eagle Scout Lucas Acosta receiving his Bronze Palm. Troop 158's long history was exemplified as 25 fellow Eagle Scouts rededicated themselves to the Eagle Pledge while standing behind Acosta. Since Troop 158's inception, 112 of its Scouts have earned the rank of Eagle.
Following the Court of Honor, the troop held a reception, where alumni pored over memorabilia, including a collection of old scrapbooks and photos. The troop was also presented with a new scrapbook, compiled by Richard and Libby Romero, highlighting Troop 158's more recent history. Conversations flowed as former members inspired current Scouts as they recalled their experiences of camping in the rain, delivering mulch, and Venture Patrol trips to Alaska, Maine, and the Bahamas.
"It was exciting to hear from all of the former members and rediscover the troop's history," said Anniversary Event Chair Jeanine Colwell. "The alumni have set a great foundation for our troop, and we hope to continue their traditions as well as create some of our own."