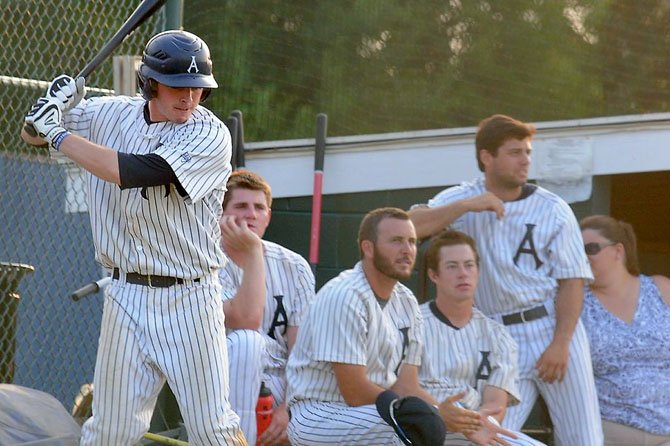 Alexandria — The Alexandria Aces last season produced the best record in club history, finishing 20-21 in the Cal Ripken Collegiate Baseball League.
This year, the Aces have their sights set on earning their first winning record in six seasons of existence.
Alexandria blanked the Southern Maryland Nationals 10-0 on Tuesday night at Frank Mann Field, improving its record to 14-8 with fewer than half its games remaining. Entering Wednesday's contests, the Aces had won seven of their last eight games and owned the second-best winning percentage in the league behind the perennial power Bethesda Big Train.
"We've been a clutch team," third-year Aces pitcher Colin Milon said. "We didn't start off too hot, but I think we've really come together; we're starting to really figure things out. As a pitching staff, the starters have done a good job just keeping us in the game and the bullpen has been lights out all year. I think we probably have the best bullpen in the league. They've been phenomenal."
On Tuesday, four Aces pitchers combined to throw a two-hit shutout against the Nationals. Blake Ream (Longwood) earned the victory, allowing two hits while walking three and striking out six in six innings. Ben Kennedy (Eastern Illinois), Tyler Brown (Wingate) and Tyler Fries (Wilmington) each tossed a hitless inning of relief, dropping Alexandria's team ERA to 3.29, good for sixth out of 12 teams.
First-year Aces head coach David DeSilva, who was an assistant with the club last season, said pitching was one of Alexandria's main focal points in a new approach to recruiting.
"We centered our recruiting around pitching, defense and speed," DeSilva said. "Last year we went for the three-run home run, which worked out OK, but [this year] we put a lot of pressure on the defense with a lot of team speed."
"We were 20-21 last year, so we obviously want to finish over .500, but I think everybody on the staff and the club have higher expectations than that."

--- Alexandria Aces head coach David DeSilva
Milon was tied for the league lead with four victories entering Wednesday's contests. The McLean native, who attended Bishop O'Connell High School in Arlington and pitches for George Washington University, won each of his first four starts, posting an ERA of 2.46 with 19 strikeouts and 15 hits allowed in 22 innings.
"He's absolutely a leader --- that would be a word I'd use to describe Colin," DeSilva said. "He's the leader of the pitching staff on and off the field --- he obviously proves it with a 4-0 record. He comes in the bullpen, he gets his work in, he gets his long-toss in and he sets the example."
Milon said experience in the CRCBL has helped.
"A couple years here, you start to get a little bit more comfortable," the left-hander said. "You get a feel for what you need to do to be successful out there."
Aces hurler Brian O'Neill (Washington & Jefferson) was named league Pitcher of the Week for the week of July 1-7. He won both his starts, allowing no runs on six hits in 13 1/3 innings. On July 2, O'Neill allowed four hits while walking one and striking out three in 6 1/3 innings during a 12-1 win against the Herndon Braves. On July 7, he threw a seven-inning two-hit shutout against Youse's Orioles.
Ream leads the team with a 0.96 ERA.
At the plate, Nick Collins (Georgetown) was fifth in the league with a .354 batting average after Tuesday's game. The 6-foot-2, 241-pound designated hitter/catcher bats third in the Aces' lineup and leads the team with 17 RBIs.
"He's been fantastic," DeSilva said. "He commands the respect of pitchers from the other staff. Everybody knows him. They pitch him a little bit different way --- they're not giving him fastballs down the middle in hitter's counts, so he's really having to make adjustments throughout the season."
Ryan Mincher (Pennsylvania) was hitting .319 for the Aces. Blaine Bower (.368), Reid Clary (.308), Colton Konvicka (.306) and Dylan Swetman (.304) were hitting better than .300 in fewer than 50 at-bats for Alexandria.
The Aces will look to continue their winning ways when they travel to face the Herndon Braves at 7 p.m. on Thursday, July 11.
"We were 20-21 last year," DeSilva said, "so we obviously want to finish over .500, but I think everybody on the staff and the club have higher expectations than that."