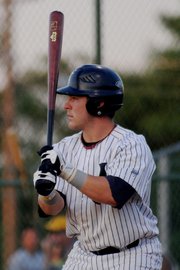 Two years after missing his senior season at T.C. Williams with a torn ACL in his left knee, Adam Forrer is back playing baseball in his hometown.
Forrer is the second baseman and leadoff hitter for the Alexandria Aces, which after six games was tied for second place in the Cal Ripken Collegiate Baseball League standings at 4-2. The Aces were on a three-game winning streak prior to a 5-4 loss to the Rockville Express on June 11.
"We've been playing really well," Forrer said. "Things have been going our way. Right now, we're hitting the ball real well."
Forrer, a rising junior at the University of Richmond, was a second-team All-Atlantic 10 Conference selection last season. At T.C. Williams, he was a first-team All-Northern Region selection as a junior prior to missing his senior year after slipping on ice in his back yard and tearing his ACL.
"It's nice to have a hometown crowd again after not playing my senior year of high school, so that's a lot of fun," Forrer said. "We've got a great group of guys, so it's a lot of fun to come out to the park every day and play baseball this summer."
Forrer led off Monday's game at Rockville with an infield single and later stole second base. While his batting average is down at .130 (3 for 23), the left-handed hitting Forrer has five walks and is 5 of 6 on stolen-base attempts.
"I like his experience at the top of the order," second-year Aces head coach Corey Haines said. "He has good [at-bats], quality ABs, finds his way on. … He's savvy on the bases, too."
"It's nice to have a hometown crowd again after not playing my senior year of high school, so that's a lot of fun."

--- Alexandria Aces second baseman and 2010 T.C. Williams graduate Adam Forrer
Haines said pitching depth and power in the lineup have improved for the Aces this season. He said starting pitchers Colin Milon (George Washington), Jamie Treml (Wilmington), Ronnie Glenn (Penn) and Greg Speiss (Wayne State) have thrown well, along with relievers Shelby Dixon (Transylvania), A.J. Rosenthal (Frostburg State), Steve Schuler (St. Joseph's) and Nick Marics (Wilmington). Haines said Milon "was a stud" during the Aces' opening night victory against the D.C. Grays, giving up two hits while striking out seven in six innings. Speiss was the only starter to get a victory through six games and Schuler had two saves.
Offensively, Alex Buccilli (Coastal Carolina) was hitting .353 through six games and was tied for the league lead with two home runs. Kevin Francke (Trinity) was hitting .350 (7 for 20) with one home run. Craig Sweeney (Monmouth), Chris Sweeney (Kings College) and Anthony Papio (Maryland) each have one home run.
Matt Kilby, a rising junior at Navy and 2010 T.C. Williams graduate, is also on the team, but has been rehabbing his arm.
Alexandria will host the Vienna River Dogs at 7 p.m. on Thursday, June 14 at Frank Mann Field.
"We definitely have expectations of making the playoffs this year," Haines said, "and I think it's a legit expectation."