Photo Gallery
Taking a Look Back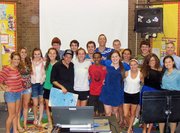 Click Photo for Flash
Before a group of Centreville High seniors graduated in June, they returned to their elementary school, Union Mill, to reunite with their classmates and take a trip down memory lane. They did so by opening a time capsule they'd created seven years ago.
It was the idea of their fifth-grade teacher there, Larry Brickwedde, who planned for the day when the students were in his class of 2005-'06. He now teaches sixth grade and is in his 13th year at the school.
"My first year was 2000, and I decided to take a bin and have my students put in something that reminded them of that year," he said. "I told them I'd invite them back as seniors and we'd open it. I wasn't sure how excited high-school seniors would be about it, but it was a big hit. We've done it every year and always had a great turnout."
The children wrote letters for the time capsule and put in artwork, sports memorabilia and bits of whatever else they liked at the time. "I also collected play bills from the school plays, band and chorus events, etc.," said Brickwedde. "And I put in some information about current events, such as a national election." Then the students all signed the inside of the plastic lid before the bin was closed.
"Teaching creates a connection between the teacher and the kids, and it's always nice to see them again before they go on to their next chapter in life," said Brickwedde. "They see things so differently as seniors, vs. fifth-graders. We talk about where they're going to college and what their future plans are. And the kids get excited about their time-capsule year and look forward to opening the bin."
He had 26 students in his 2005-'06 class, so he was pleased that 19 of them came to what he dubbed the "opening ceremony." It was held after school in Union Mill's library. The teens snacked on pizza while collectively enjoying seeing each discovery in the time capsule. Afterward, they got to keep their own items.
"In fifth grade, this always seems like a cool idea," Brickwedde told them. "And I'm always blown away by the turnout."
One of the first treasures revealed was Matt Seale's red SYA baseball cap. Then came a letter from Morgan Cripe calling Brickwedde "the best teacher in the world." The students had also put in interviews they'd done of their grandparents on Grandparents' Day. There was also a November 2005 Centre View article on a nutrition event at Union Mill, plus another Centre View story about two Union Mill students playing SYA sports.
Brickwedde also uncovered a photo of some of the students during class, a lunch ticket, poems, drawings, a photo of a dog, plus more letters. In one of them, Lexi Moles wrote to some of her classmates in the future, asking, "Do you guys still hang out together? Right now, we're all best friends."
Another girl wrote Brickwedde a letter saying he was a great teacher, but he'd be "even greater" if he let her and her three friends sit together. If he did that, she wrote, they'd have "the funnest time ever."
There was also a Best Buy ad for flip phones, plus the latest movies and music, including Nelly Furtado's new CD. A souvenir from the school's Medieval Day was also in the bin. And Jake Fulkerson found his name tag, as well as a drawing he did and a letter he wrote to "Mr. B."
"We had to take a spelling test with his name on it," recalled Fulkerson. "If we could spell his name right, we could call him Mr. B. for the rest of the year. It's cool coming back and seeing all this stuff. The name tag especially brought back memories. Our names were taped on the corner of our desks."
Moles was excited about opening the time capsule "because I remembered putting a big package in there, but I couldn't remember what I put in it. It was my special blanket, two poems I wrote, a letter, keychain and a New York City souvenir. It was embarrassing when Mr. B, read my letter out loud, but it was fun."
Shannon O'Donnell put in a clay frog she'd made in art and a poem she'd written to Brickwedde. She also included a tardy pass, and seeing it again made her smile. "It's funny because I was named 'Most likely to be late' in our senior superlatives at Centreville," said O'Donnell. "This was fun reminiscing about things we didn't remember until today, and it was good seeing everyone again."
Brooks Carson played on Bishop O'Connell's varsity baseball team, so he liked seeing a note he'd written to Mr. B. with a baseball drawn on it. "This whole thing was amazing," he said. It also meant a lot to him because he'd attended a different high school than most of his old classmates.
"I'm so happy I came back," said Carson. "It was good to see everyone again." As for Union Mill, now that he's 6 foot 5 inches, he said, "It looks so different now — everything looks miniature."