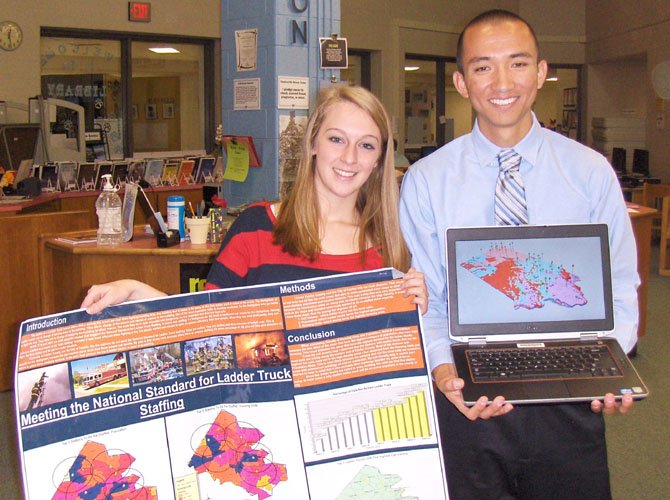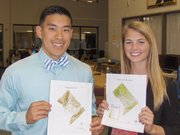 Centreville — When Centreville High seniors Antonio Choi and Brooke Peterson presented their culminating, final-exam project, they did so at their school's first-ever GIS (geographic information system) Fair. And Tish McKinstry, their Geospatial Analysis teacher, couldn't have been prouder of them and their classmates.
In her specialized, upper-level science class, students learn skills they can use in virtually any career, while earning three college credits at JMU at the same time. And during this school year, Centreville had the highest enrollment — four course sections totaling more than 80 students — out of 18 Virginia high schools participating in the program.
"Best of all, my students are learning to think geospatially and to solve current problems," said McKinstry. "They gather and examine data using the computer program, ArcMap10 by ESRI, and then create their own maps. It is almost unthinkable that high-school students could produce GIS projects, and to see the directions they explored is pretty amazing and praiseworthy."
Peterson described spatial analysis as the making of maps, graphs and charts that can be applied to any field. Added Choi: "It's analyzing different types of data and putting it into visual forms easy for people to understand."
For their midterm project, the pair created maps based on the flooding in New York and New Jersey after Hurricane Sandy. "I dealt with Ocean City, N.J., and examined the infrastructure and what it looked like before and after," said Peterson. "I showed where the flooding was and the individual roads and buildings that were affected."
Choi developed various evacuation routes for the residents. "I looked at the flooded areas in relation to where the people lived and mapped out back roads for them to use," he said. The two students then became partners for their final project and, together, created a resiliency model.
"We got the idea from a Volunteer Fairfax member who e-mailed our teacher after she'd asked for a resiliency model for Fairfax County," said Choi. Then he and Peterson made one for Washington, D.C. "If an area was affected by a big flood, for example, we found places where people could go for relief and where volunteers could help them," he said.
Centreville GIS Students Win Top Awards
Fourteen Centreville High GIS students were selected to present their projects at the USGIF (the United States Geospatial Intelligence Foundation) Technology Day Conference, this spring. Some also entered their projects into the Loudoun County GIS Forum and won the top prizes.
First place, "Hurricane Sandy Hits Manhattan," Marcus Schmidt and Warren Smith; second place, "Locating Wells from Aquifers in Iowa," Steven Yu and Holly Clark; tied for third place, "Labeling the Trail at Wakefield Park," Nathan Covert and Jason Hoernke, and "Identifying Factors of an Affluent Society," Marcus Schmidt and Gabby DaGata.
"We chose hotels, a museum and a church — buildings big enough to accommodate a large number of people," said Peterson. "We broke down the maps into districts and neighborhoods and took flood, elevation and topographic data, decided where the most flooding would be and where we'd put our emergency headquarters."
She said the exercise taught them how much advance preparation actually goes into emergency planning, evacuations and "the 'what ifs' — things you don't normally think about. And GIS professors tell us this is a good skill to know."
Agreeing, Choi said, "There are a lot of jobs in this field. I have an Army ROTC scholarship, and recruiters told me the Army is looking for people with the skill sets I have."
Peterson is considering selling and marketing green products. "I'd use my skills to identify the bigger stores, what they're selling and what products are selling where," she said. "I'd see where we're getting our lumber, where things are processed and what are the travel routes. You can use spatial analysis in almost anything."
Another of McKinstry's students, senior Steven Yu, is already applying what he learned. This summer, he's interning in Fairfax County's GIS Department, making maps. He said GIS is "essentially cartography, using the newest computer software. The dual-enrollment with JMU was a big plus for me. I'm attending Virginia Tech to study computer and electrical engineering, but I might double major or minor in geography."
Yu likes the "global, big-picture perspective" GIS provides — "a broad sense of everything going on. It also has geopolitical implications. For example, my project is looking for groundwater for agricultural uses; the 'Arab spring' which overturned 13 countries in a few months is thought to be partly caused by higher food prices there. And my project deals with the price of food and the best areas to drill a well to get the cheapest groundwater."
Noting that in the past 18 months, the Midwest has experienced some of the worst drought since the Great Depression, Yu said he and his project partner, senior Holly Clark, investigated where the best places were in Iowa to drill wells.
"We got data from the U.S. Geological Survey showing the water-table depth in Iowa, and we used it to estimate the heights of the water in between existing water wells," he explained. "It gives you the shallowest area to drill to find water — and that would also be the fastest and cheapest."
Yu and Clark also looked at the types of rock there, noted their locations and determined which would be the easiest to drill through — especially sandstone and limestone. "The 3D computer map showed us where they where," said Yu. "Although they'd also have to manually test the water quality to make sure it's safe to drink."
Joining Yu at Centreville High's GIS Fair was 2012 grad and GMU freshman Kelsey Ciarrocca. "My class was the first one to do GIS at Centreville, and I did this project, too," she said. "Then I took it to GMU and used it in its GIS Day."
So, she said, "I'm an example of how this class can help you in the future. I'm majoring in geography at GMU and hope to do something in homeland security. So this class helped me get involved with the program in college. I was the only freshman in a class of seniors at GMU, and I came in second in our GIS Day."
Yu said he'd recommend McKinstry's Geospatial Analysis class to others because "it gives real-world experience, prepares you for college and may help you find a career."
Calling her a terrific teacher, Ciarrocca said McKinstry would stay at school until 11 p.m., if necessary, to help students with their work. "She's very dedicated and cares about her students," said Yu. "Usually, you just talk about things in classes, but hers is actually hands-on learning."
"And GIS is becoming such a huge thing that, in the future, it'll be essential to know because the way we view our world is so technology-based," said Ciarrocca. "This opens a lot of doors, and it's great because kids are getting this knowledge at such a young age now."
Added Yu: "The way we're able to collect such big amounts of data is giving us new insights into our world and how we can solve its problems."
Overall, said McKinstry, "I have some pretty fantastic students and I'm very proud of them. At our GIS Fair, I heard some remarkable comments from the judges. One said a student's project was similar to what a friend's doing for her graduate thesis, and another said the work a student did is what he does for his job. Not bad for high-school students."