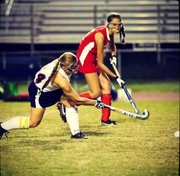 Meghan Smiga's injury troubles at W.T. Woodson High School began her freshman year, when she tore the ACL in her right knee during basketball season. As a junior, she suffered a concussion during lacrosse season. As a senior, a car accident forced her to miss part of field hockey season. After she returned, Smiga tore the ACL in her right knee, forcing her to miss the rest of the field hockey campaign, along with indoor track and lacrosse seasons.
Despite two significant knee injuries, Smiga hasn't walked away from the playing field. In fact, the 2013 Woodson graduate is taking her game to the next level.
Smiga will play field hockey at Radford University in the fall. While she was robbed of most of her senior season due to injury, Smiga garnered first-team all-district, first-team all-region and second-team all-state honors during her time as a Cavalier.
Smiga participated in a Q and A with the Connection via email.
*Connection: What made Radford the right fit for you?
Smiga: The location, school size, campus. The physical therapy program was a huge attraction, and the team and coach were very welcoming and friendly. I can't wait to spend my next four years there.
*Connection: What position did you play in high school? What position will you play in college?
Smiga: I switched off and on with my high school and club teams between midfield and forward, wherever my coach wanted to play me. Even though I was recruited as a forward, the college level is a whole new game and I could end up anywhere on the field depending on where my coach thinks I would be most beneficial.
*Connection: Any word on playing time as a freshman?
Smiga: There's never a guarantee, but when Aug. 15 rolls around and we start practicing, I will try my hardest to earn playing time.
*Connection: What is your favorite memory of playing field hockey at Woodson?
Smiga: My favorite memory playing field hockey at Woodson would have to be my sophomore year. The year before, we graduated a lot of talented field hockey players that went off to play in college, so there were high expectations. The season overall was just really intense and everyone took it very seriously and cared a lot, which made me love the sport even more.
*Connection: What are you most looking forward to about the transition from high school to college?
Smiga: I'm looking forward to playing with and against really talented girls, learning more skills, having a faster-pace game and just being around new people.
*Connection: At what age did you start playing field hockey? Did you imagine you'd one day play it in college?
Smiga: I started playing my freshman year. At first, I was set on playing soccer in college but that changed after my knee injury and playing club indoor hockey. I played for Rampage and it was really intense and people loved the sport and being around that attitude rubbed off on me. Also, Westfield coach Starr Karl, who is the best coach I've ever had and is highly respected, made me love the sport more and made me a better player in many ways. She definitely had a huge impact on me playing field hockey.
—Jon Roetman