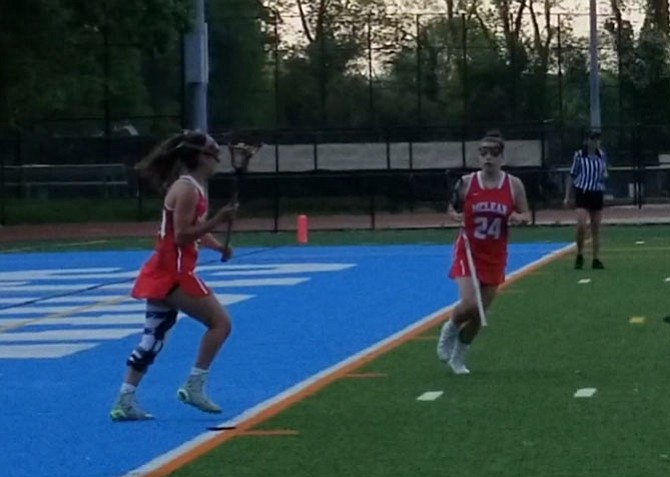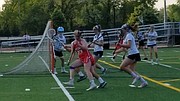 Paulina DeAnda scored a game-high five goals and helped the McLean girls' lacrosse team earn a return trip to the Liberty District tournament championship game with a 15-12 victory over Yorktown during the semifinals on May 11 in Arlington.
DeAnda's goal with 7:41 remaining gave the Highlanders a 12-11 lead they would not relinquish. McLean on Tuesday — after The Connection's deadline — faced rival Langley in the Liberty championship game for a second straight season.
While five goals in a district tournament semifinal is a strong effort on its own, DeAnda's performance was even more impressive considering she tore the ACL in her left knee just five months prior.
DeAnda, who will play college lacrosse at Coastal Carolina University, suffered the injury during basketball season.
"It broke me," DeAnda said.
A full rehabilitation from ACL surgery can take six months or longer, according to the University of Pittsburgh Medical Center. By that timeline, DeAnda's final high school lacrosse season would likely be over before she had a chance to step on the field.
"I wasn't expecting her," McLean girls' lacrosse coach Caroline Cochrane-Braswell said, "to play at all."
With hard work, DeAnda was able to get medical clearance in four months. After undergoing surgery during winter break, she spent five days a week in the gym and would spend two hours in physical therapy rather than one.
"I pushed myself," DeAnda said. "I was very determined. I wanted to get back and play."
Once she was cleared, DeAnda eased her way back into action with the Highlanders. She played against South Lakes (April 13) and Langley (April 19) during the regular season and then took a break. She returned for the playoffs, helping McLean beat South Lakes, 16-15, in the opening round of the Liberty District tournament on May 9.
On Friday, DeAnda led McLean past Yorktown. But while she performed well, No. 21 acknowledged fear of re-injuring her knee weighed on her mind.
"Today I was so nervous," DeAnda said. "I was having chills up and down my body when I'd fall. I [didn't] care who hit me, all I cared about was how I'd land. I didn't want to re-tear [my left ACL] or tear the other one."
Senior captain Cassidy Slavik (four goals) and junior Sarah Rice (three goals) each had strong performances to complement DeAnda's inspiring effort.
Slavik, a first-team all-district attack who will play at East Carolina University, scored three goals in the final 10 minutes of the first half, helping McLean to a 7-6 halftime advantage.
"Everyone really wanted this," Slavik said. "We wanted to play Langley again. We're all about redemption. We lost by 11 goals the last time against Yorktown (13-2 on April 5)…that was a terrible game."
Last season, McLean knocked off perennial power Madison in the Liberty Conference semifinals before falling to Langley in the championship game.
Slavik said she's glad to be part of the group that helped the Highlanders become a district title contender.
"It's fantastic," she said. "I'm really looking forward to what the program is going to do when we're gone. We really set the tone for the underclassmen and they know that we're prepared to win."