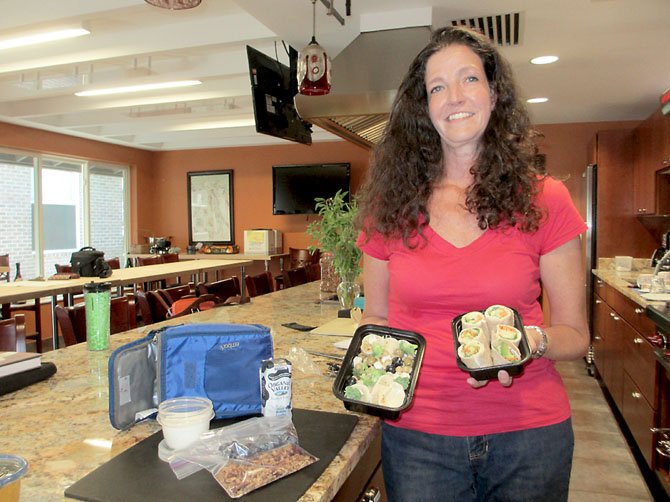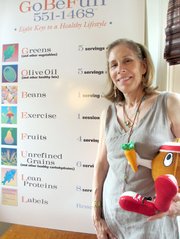 The bigger challenge for mom or dad than building a healthful sack lunch is building a healthful sack lunch that tastes good-enough to eat. If children are not actually eating what you serve them, it makes little difference how healthy the ingredients are. That's where local food specialists lend a hand. Registered dietician Judy Caplan and professional chef—and mother of two school-aged kids—Christine Wisnewski share suggestions, tips and recipes for planning sack lunches your kids will eat because they enjoy doing so. Healthy and tasty—the ultimate combination.
"It's all about balance … I don't want kids to be afraid of eating. Food is part of the enjoyment of life." — Christine Wisnewski, chef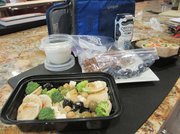 "You don't have to have a sit-down hot meal to make it healthy and enjoyable," said Vienna registered dietician Judy Caplan. "If you can get the basic principles of what keeps people healthy, you can start from there."
Caplan uses whole grains as an example. She suggests trying whole-wheat pitas and wraps, and if kids refuse to eat whole wheat bread products, try whole-wheat crackers or pretzels with hummus or low-fat cheese. For the children who truly will not eat whole wheat anything, shift to unbleached flour, at the least.
"I think we're getting too crazed about what constitutes a healthy diet. We're going overboard. And I believe in healthy eating," said Caplan who advises clients on healthy home diets.

Recipes and Tips
Christine Wisnewski's Homemade Granola—Culinaria-style (Makes 8 cups)
Non stick cooking spray
1/3 cup vegetable oil
1/2 cup packed light-brown sugar
1/2 cup maple syrup
1 tbsp. pure vanilla extract
3/4 tsp. ground cinnamon
1/2 tsp. fine salt
3 cups rolled oats
2 cups chopped pecans
1 cup sweetened shredded coconut
1 cup mixed dried fruit (cranberries, raisins, cherries, apricots)
1 cup mini-chocolate chips (optional)
Preheat oven to 300 degrees, with racks in upper and lower thirds. Line two large rimmed baking sheets with aluminum foil. Lightly coat lined sheets with cooking spray.
In a large bowl, combine oil, sugar, syrup, vanilla extract, cinnamon and salt. Add the oats and pecans; stir to combine. Divide the mixture evenly between the two sheets, spreading mixture out. Bake 15 minutes, stirring occasionally. Add 1/2-cup coconut to each sheet; bake until mixture is golden brown, 15 minutes. Let cool completely on sheets. Stir in dried fruit and chocolate chips, if desired.
Serve granola with milk, over yogurt or fruit, or out of hand as a snack. Granola may be stored in airtight containers, up to three weeks.
Judy Caplan's chocolate balls and bean-and-veggie quesadilla:
Chocolate Cupcake Balls Serves 4 (two balls each)
1 cup walnuts
5 Medjool dates, pitted
2 Tbsp. unsweetened cocoa powder
1 tsp. coconut oil
1 tsp. vanilla extract
1/2 tsp. almond extract
1/4 tsp. sea salt
Process walnuts and dates in a food processor until mixture sticks together. Add cocoa, coconut oil, sea salt, vanilla and almond extracts and blend well. Roll eight small (approximately 2") balls out of the mixture and place on a dish. Store in the refrigerator. Do not cook balls; eat raw. Optional: roll in shredded coconut.
Bean and Veggie Quesadilla (Serves 4)
4 whole wheat tortillas
1 can fat free refried beans
1 tsp. extra virgin olive oil
1 cup grated Cabot 75% Reduced Fat Cheddar Cheese
1 onion sliced (optional)
2 red bell peppers sliced (optional)
Heat beans in a sauce pan. In a separate skillet, sauté veggies in 1 tsp. olive oil.
Warm tortillas in oven until softened. Lay tortillas flat. Divide beans equally between the four tortillas. Spread beans on each tortilla. To each tortilla, add 1/4 of veggie sauté, 1/4 cup grated cheese. Sprinkle with sliced black olives. Fold each tortilla in half, cut into quarters.
If your child does not like onions or bell peppers, leave them out. Serve with salsa and 2 tbsp. guacamole.
CAPLAN WORKS IN PRIVATE PRACTICE and consults with hospitals, corporations and private schools. She authors guidelines on children's nutrition using her GoBeFull peanut character. Wisnewski teaches classes at Culinaria Cooking School in Vienna, making traditional recipes with a health-conscious twist, what she refers to as practical tips for feeding a family healthful, tasty and fast-preparation food.
For little children, texture sometimes is more of an issue than taste, Wisnewski said. "Start with shredded carrots, soft avocado."
Wisnewski said there is a "tactile" issue at play eating and preparing. "If children help assemble the meal, it provides them with a tactile experience. They get a lot of pleasure out of assembling. That's why those [commercial] Lunchable things are so popular with kids."
Wisnewski presented a "sample" lunch. She included two main dish choices—vegetable wraps and ravioli salad—and separately packaged plain yogurt, homemade granola, blueberries and milk. Everything in the lunch was prepared and packed the evening before.

Wisnewski's sample tortilla wrap was smeared with cream cheese and filled with julienned carrot, cucumber and avocado. Hummus can be substituted for cream cheese. Buying from a grocery store's salad bar is an easy-preparation option.
Cream cheese can be accented with a bit of sweetness or made savory with herbs. For added protein, add chopped nuts. "It's all about balance," said Wisnewski. "I don't want kids to be afraid of eating. Food is part of the enjoyment of life."
WISNEWSKI LIKES TO MAKE EXTRA CHICKEN BREASTS when preparing dinner and turn the extras into chicken salad made with nuts and raisins. She stuffs pita and wraps with the salad. "Making your own chicken breast is so much better than processed meats. There's no nitrates and the meat is lower in sodium."
If sending hot soup, include Baggies of shredded cheese and tortilla chips for the kids to blend in at lunchtime.
Chopped vegetables find their way into Wisnewski's meals. Her ravioli salad, a protein dish, is made with cheese ravioli, chickpeas, cubes of mozzarella and dices of artichoke hearts, broccoli florets, olives and red pepper. It's a colorful dish that can be accented with zesty herbs.

Farro, bulgur wheat, barley, wheat berries are all possible foundations for grain based salads, said Wisnewski. Quinoa is a seed. Couscous and other small-shape pastas like orzo or pastina are also available in whole-wheat versions. "These pasta alternatives are a good way to introduce children to the textures of grain-based salads." Any of these ingredients, when combined with lemon juice and olive oil, chopped vegetables, dried or fresh fruits, nuts and/or cheese, can serve both as a dinner side-dish and as the foundation for a healthy and delicious lunch, Wisnewski said. "Let your children's preferences drive your flavor combinations."
"First thing a parent should ask is 'what do my kids like to eat?' And, as parents, what can we do to manipulate those likes to present our kids with something healthy they'll enjoy eating." — Judy Caplan, dietician
AN ASSORTMENT OF CONTAINERS that can hold hot or cold, or raw or cooked, are high on the list of helpful aids for healthy eating. Whatever can be prepared and packaged the night before should be. Get the kids engaged in making their lunches. It empowers them and promotes independence. They're pulling ingredients from what parents stock at home so buy a variety of the healthful foods and ingredients they like. If weekends are less harried, choose a time then for the family to cooperate in lunch preparation.
"I think it's important not to use lunch as an experimental time," said Caplan. "First thing a parent should ask is 'what do my kids like to eat?' And, as parents, what can we do to manipulate those likes to present our kids with something healthy they'll enjoy eating."
Whole wheat tortilla wraps are more versatile than bread, Caplan said. You can roll a tortilla with black beans, avocado and cheese. If your children like Asian food, try packing them dumplings with a dipping sauce. Grilled chicken strips are ideal for dipping in a peanut sauce.
"Even if you're the most health-centered of mothers, occasionally throw in a piece of junk," said Caplan. "Give your kids a break. Don't make anything forbidden."

Wisnewski agrees with Caplan that kids like to "play" with their food. That's why finger foods and hand-held foods are appealing. They can dunk, dip and pull the stuffing out. Small pitas lend themselves readily to stuffings.
"What's important is not what kids eat in an individual meal, or even over a day," said Caplan. "What is important is what they eat over a week. You don't have to get the complete food pyramid in in a single meal. You always want to pack a little sweet something, whether it's dried or fresh fruit or a whole wheat muffin," Caplan said.
"It's the big picture. If you're eating healthy 80 percent of the time, relax. Get nutrition 101 down and build from there."
WHEN YOU LOOK AROUND THE WORLD, there are all kinds of diets, Caplan said. And most people are living healthy lives on those diets.
Caplan feels it's important for schools to have an international food day early in the school year. "Let them be exposed to a diversity of food early, rather than later," Caplan said. Sometimes, children balk at unfamiliar ingredients and other times children eating exotic food feel uncomfortable doing so in front of their classmates.

"Vienna is really a diverse area," said Caplan. "Kids here have more exposure to different cultures and different foods. Parents can take advantage of that."
Caplan emphasizes that parents who know what their children like to eat are a step ahead in the planning process. If there's a dinner food that appeals to them, make extra and pack it for lunch.

If you have a child who will eat nothing but peanut butter and jelly, make it the healthiest one they'll eat. Add raisins, use less jelly, find a soft whole wheat bread or whole-wheat crackers.

"Find out what your kids like, tweak it to the healthiest common denominator and leave it at that," said Caplan. "The whole idea of a lunch is to fill the kids up and to promote maximum brain function. And developing your brain is why you're in school."