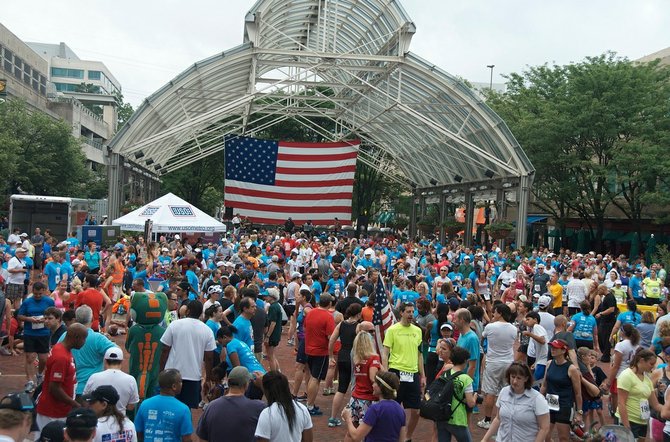 The USO of Metropolitan Washington, a nonprofit providing support services and programs to area military members and their families, benefited on Independence Day as the charity of choice during the annual Firecracker 5K for the Troops race at Reston Town Center.
More than 3,000 runners and spectators participated in the patriotic event, which included a JROTC Color Guard and a United States Army anthem singer in an event put on by Potomac River Running.
Net proceeds from the event's corporate sponsors were donated to USO-Metro to help fund critical programs and services provided by the nonprofit for the nearly 300,000 military members living in the Washington-Baltimore region and the 150,000 who travel through local airports each year.
The Independence Day race also marked the first annual "Battle of the Branches" competition in which active duty military members represented their branch of service by racing in the event. The United States Army won with the most registered soldiers and its "prize" was a generous donation in their name to USO-Metro. 
Hundreds of race participants and spectators also donated school supplies, including notebooks and pencil sharpeners, for the children of junior-enlisted military members. The school supplies will be distributed to local military children through USO-Metro's "Operation Back to School" program. The annual back-to-school program serves to honor and recognize the service of military children while easing the financial strain on junior-enlisted families.
Runners and spectators took a moment to write messages of thanks and support on a "signing wall" located near the end of the finish line. The wall will travel to and be displayed at USO Centers throughout the Washington-Baltimore region.
Corporate sponsors included Endurance Athlete Center, American Taproom, U.S. Trust, NJVC, Dyncorp International, Google, VMware, and Geico. Media sponsors included WMZQ, 98.7, ABC7/WJLA-TV and News Channel 8 and Connection Newspapers. Papa John's donated more than 800 slices of pizza, Naked provided a variety of juices and Occasionally Cakes donated cookies.