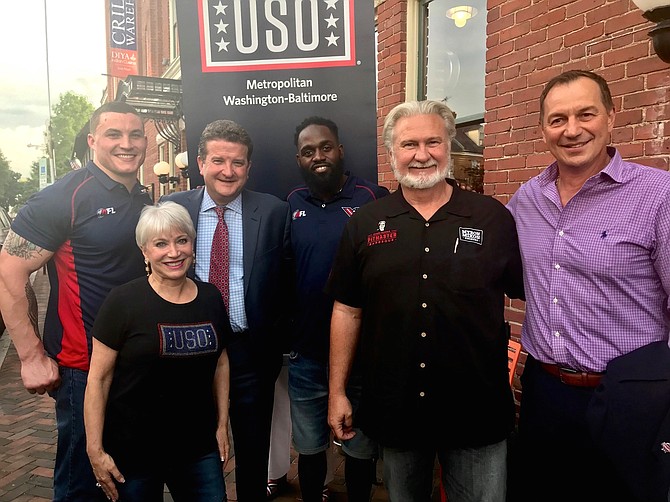 Sports fans from around the region descended on Myron Mixon's Pitmaster BBQ Restaurant in Alexandria June 6 for the third annual Red, White and BBQ fundraiser to benefit the USO of Metropolitan Washington-Baltimore.
"I've done some USO tours before — to Kuwait and South Korea — so it only made sense for us to host an event for the USO," said celebrity chef Myron Mixon, a four-time barbeque world champion.
The event was sponsored by Giant Food ahead of the Giant National Capital Barbeque Battle, one of USO Metro's largest fundraisers, and featured silent auction items from Washington's sports teams, including autographed items from last year's Stanley Cup champion Washington Capitals.
Special guests included Myron Mixon, former Washington Capitals player Peter Bondra, Washington Capitals mascot Slapshot, Washington Valor players Jimmy Gordon and Josh Reese, and celebrity comedian Rob Maher. Dinner was followed by a silent auction, of which all proceeds directly benefitted USO-Metro to support military members throughout their service.
This is the fourth year for Giant to serve as the title sponsor of the Barbeque Battle and third year to partner with the USO. The Giant Food fundraising campaign on behalf of the USO began Memorial Day weekend and runs through the Barbeque Battle.
The 27th annual Giant National Capital Barbeque Battle will take place June 22-23 in Washington, D.C., and will benefit USO Metro and the Capital Area Food Bank.
Shoppers can support the USO by donating at the checkout line through June 23 by rounding up your change or donating $1, $3 or $5 when paying for groceries.
For tickets or more information on the Giant National Capital Barbeque Battle, visit www.bbqindc.