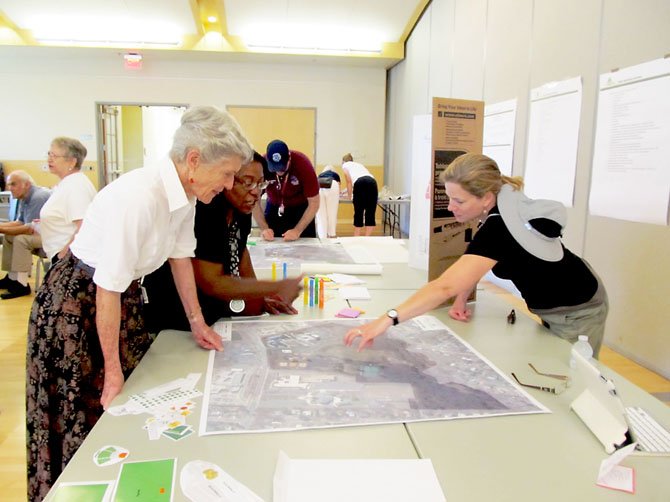 On a summer Sunday afternoon, several people huddle over a giant digital map of Van Dyck Park spread out across tables at the Sherwood Community Center, musing about future amenities at the City of Fairfax's oldest and largest park, located just across the street.
Diane Henn, a longtime City of Fairfax resident, uses her finger to trace the route she likes to ride her bike. "But there are not a lot of areas that aren't wooded, and I wish there were. I also think we need more trails that are connected."
Joy Koeppen points to areas she thinks could be updated with more accessible playground equipment. "Sandboxes are kind of boring.
"We need parks and playgrounds that are accessible not only to children with disabilities but to their parents and siblings," Koeppen said. She and her husband have two small children and have lived in the city for 17 years.
Marlene Thacker, who considers herself an advocate for dogs, picks up a plastic rectangle that says "dog park" and slaps it down on a swath of green on the map. "That's what I'd like to see right there," she said. "Bella, my golden doodle, would like that."
"This is fun," said Tegan Pentek, 10, who studies the map, looking for a place to add an indoor skating rink.
Why would Pentek and nearly 40 other residents skip a day at the park on a warm summer Sunday to attend a meeting about parks?
"It's remarkable when you think about it, to get this many people out on a Sunday," said Mike McCarty, the city's Parks and Recreation director. "We've had about 500 people attend these meetings, and that doesn't include the online engagement. Seeing this level of interest is invigorating for me."


THE PUBLIC WORKSHOPS are part of the first phase in developing a strategic master plan for all parks, recreation, trails, open space, events and cultural activities in the City of Fairfax. Last fall, City Council approved about $50,000 in funding to launch the process.
"We are asking residents to help us envision a parks, recreation, and open space system that the entire community can enjoy for generations to come," McCarty said.
In April, the city launched a new website—ourparksourfuture.com—where citizens could engage, communicate and collaborate with Parks and Recreation staff and other residents on the new master plan. The wish list of amenities posted on the site run the gamut from edible plants along park trails to more amenities for senior citizens and more neighborhood parks.
Mayor Scott Silverthorne said feedback from the engagement website will be used by the city in order to prioritize future projects.
"I think that community engagement is the hallmark of City of Fairfax, whether it's parks and recreation or transportation," Silverthorne said. "Obviously, we are generating a wish list of large proportions that city council will take time to digest."
Phase One of the process is expected to run for approximately seven months, ending with a final report and presentation to the mayor and city council in November 2013.
McCarty, who heads the nationally recognized, award-winning park and recreation system, said the city is at a critical juncture in planning for its future.
"The city has changed, and so have the needs of our users," he said. "As a result of the changes, the city has to determine the best way to fund recreation services and capital maintenance needs for the park system."


THE CITY has partnered with George Mason University, the Fairfax County Park Authority and the Northern Virginia Regional Park Authority (NVRPA) to pull together the process for developing a master plan.
"Mike McCarty has done a great job with this," said Paul Gilbert, executive director of the NVRPA. Gilbert said the NVRPA is trying to obtain a grant that would connect a series of trails throughout the city's park system, something many City of Fairfax residents say they want to see.
"Parks and recreation opportunities add tremendously to our quality of life and it's a big part of what defines us," Silverthorne said. "We are not resting on our laurels, that's the bottom line."