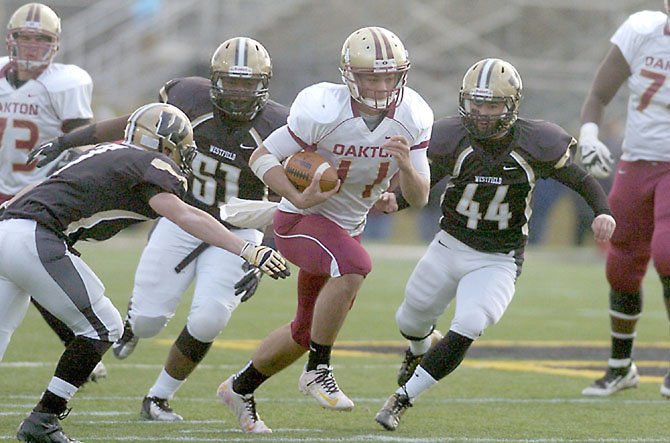 Dual-threat quarterback Kyle Downer helped the Oakton football team win its first six games of the 2012 campaign. After four straight losses to close the regular season, Downer led the Cougars on a postseason resurgence that included victories over the top three seeds in the Northern Region, a region championship and a berth in the state playoffs.
While Downer was a capable passer, he also hurt opponents with his legs. His 70-yard touchdown run gave the Cougars an early lead against No. 2-seed Lake Braddock in the region quarterfinals en route to a 20-13 victory. Downer finished the game with 152 yards and three touchdowns on the ground. The following week, Downer scored on the final play of regulation during a 14-13 win over Centreville in the semifinals. Against undefeated Westfield in the region championship game, Downer rushed for 119 yards and a touchdown and threw for two more scores.
Downer's skillset earned him a full scholarship to the University at Albany in New York, where he will play football and study business.
Downer recently participated in a Q and A with The Connection.
*Connection: What made Albany the right fit for you?
Downer: When I came up on my official visit, everything about the school felt right. I loved everything about the football program, from players to coaches, as well as the school itself.
*Connection: Any word on playing time as a freshman?
Downer: As a freshman, there is probably a 90-percent chance I will redshirt.
*Connection: What is your favorite memory of playing football at Oakton?
Downer: My favorite Oakton football memory has to be our region semifinal win over Centreville. Being able to be a part of that entire game and the final drive is a memory that will stay with me forever.
*Connection: If you could go back and change one thing about your high school football career, what would it be?
Downer: I'm not sure that there is anything that I would change. Even though I would have loved to have started at QB earlier in my career, I think not starting until my senior year gave me a chance to really mature and be ready and prepared when my time came.
*Connection: At what age did you start playing football? When did you realize playing college football was a possibility for you?
Downer: My first year of football was seventh grade. Since freshman year, it was always a dream of mine to play college football. I don't think I knew I had a legitimate shot to play until the end of my sophomore year.

*Connection: What are you most looking forward to about the transition from high school to college?
Downer: I'm most looking forward to football season. I want to be able to get back out on the field and challenge myself to get better playing at the Division I level.
*Connection: Who is your favorite music artist? Why?
Downer: Zac Brown Band. I love country music because it's easy to listen to and it's always positive and enjoyable.
*Connection: What's your favorite movie? Why?
Downer: I'm not sure if I have one favorite, but "The Blind Side," "Inception," and "Dodgeball" would all be near the top of the list.
*Connection: What is your favorite hobby outside of football?
Downer: I don't have a favorite hobby, but I enjoy basketball, cooking, video games and watching my dad's races.
*Connection: What location is the farthest you've traveled from the Washington, D.C. metro area?
Downer: The farthest I have traveled from DC is probably California. My aunt lives out in California and we have visited her out there a couple times.
--- Jon Roetman