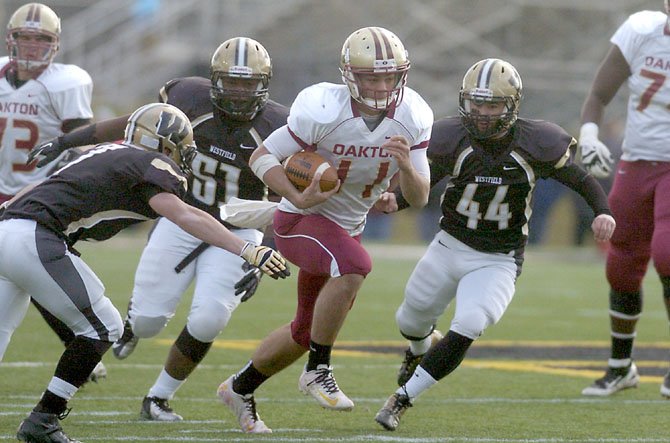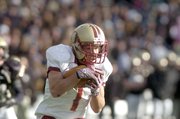 Chantilly — After a 6-0 start, the Oakton football team's 2012 season nearly derailed during a four-game losing streak.
Doubt started to creep in after a 49-28 defeat against Centreville in the regular season finale on Nov. 2. The Cougars finished fifth in the six-team Concorde District and went a month without tasting victory. Oakton managed to qualify for the playoffs, but how long would the Cougars last?
"To be honest, we did lose the faith," Oakton senior Andy Boone said. "I think we lost the faith when we lost to Centreville, because that was such a heart-wrenching loss. … They just ran all over us [and] we couldn't do anything in the second half on offense. It felt like some of the guys were down and we just didn't know what to do. Some of the kids were getting ready to go back to basketball season."
Oakton would enter regionals as a low seed, meaning the Cougars would face a tough opponent in the quarterfinals.
"First, we thought we were going to play Westfield and all the kids on the team were bummed," Boone said. "We thought we were going to be out of the playoffs."
Instead, No. 7 Oakton was matched against No. 2 Lake Braddock, the team which knocked the Cougars out of the 2011 playoffs. With a chance for revenge as motivation, Oakton won, 20-13, on Nov. 9 --- the Cougars' first win in 35 days. The following week, Oakton edged No. 3 Centreville, 14-13, in the semifinals on Nov. 16.
On Nov. 24, Oakton traveled to face top-seed Westfield with the region title on the line. While the Cougars might have been intimidated by the undefeated Bulldogs at the start of the postseason, a confident Oakton team took the field on Saturday and brought home a banner.
OAKTON DEFEATED WESTFIELD, 23-16, in the Division 6 Northern Region football final at Westfield High School, continuing a considerable turnaround for the Cougars. Oakton rebounded from a four-game losing streak to beat the top three seeds en route to the Cougars' first region championship since 2008.
"Just looking back on our season," quarterback Kyle Downer said Saturday, "it's amazing how we got here."
Downer had another big game for Oakton, carrying 18 times for 119 yards and a touchdown, and completing 4 of 10 passes for 53 yards and two scores. He also intercepted a pass on defense. Downer's 3-yard touchdown run with 37 seconds remaining in the second quarter gave the Cougars a lead they would not relinquish.
"Just looking back on our season, it's amazing how we got here."

--- Oakton quarterback Kyle Downer
Oakton led 13-7 at halftime and, after a scoreless third quarter, took a two-possession lead on Brian Burns' 31-yard field goal with 9:08 remaining in the fourth. Burns missed an extra-point attempt earlier in the game, but head coach Jason Rowley didn't lose faith in his kicker, saying the missed PAT was a result of the wind.
"I've got all the confidence in the world in Brian," Rowley said. "He did a great job today."
Burns' field goal gave Oakton a 16-7 lead. Westfield fumbled on its next offensive play and Oakton's Daniel Mansfield scooped up the ball and returned it to the Bulldogs 10-yard line. Four plays later, Downer connected with Boone for a 4-yard touchdown on fourth-and-goal, helping give the Cougars a 23-7 advantage with 6:31 remaining. Westfield would score a touchdown and add a late field goal, but it wasn't enough.
Boone finished with four receptions for 53 yards and two touchdowns. He also had 22 rushing yards on three carries.
"It feels like a relief," Boone said of winning the region title. "I've been in probably nine championships in my life and I've never won one before, so just to win a championship feels amazing --- just that weight lifted off your shoulder."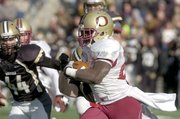 Westfield defeated Oakton during the regular season, 28-14, on Oct. 19. The Cougars totaled 401 yards of offense, but had trouble finishing drives. Oakton ran 19 plays after reaching the Westfield 30-yard line, but managed just one touchdown. The Cougars' other score came on a 35-yard run.
ON SATURDAY, Oakton scored four of the five times it had the ball inside the Westfield 30, including three touchdowns.
"It was all about finishing drives," Rowley said. "It felt like in the first time we played them that we could get the ball to the 30 and then we'd get stifled and couldn't put the ball in the end zone. Since that game, we've really talked about finishing drives on offense."
After a scoreless first quarter, Oakton took the lead when Downer hit Boone with a 21-yard touchdown pass with 7:30 remaining in the second. Trailing 7-0, it didn't take Westfield long to respond. Devon Burns returned the ensuing kickoff to the Oakton 30-yard line and running back Dalaun Richardson carried the ball into the end zone on Westfield's next play from scrimmage.
Oakton countered with an 11-play, 80-yard drive, capped by Downer's 3-yard touchdown run. Westfield wouldn't score again until quarterback Chris Mullins crossed the goal line on a 1-yard sneak with 1:31 remaining in the fourth quarter.
Richardson rushed for 117 yards and a touchdown for Westfield.
With the victory, Oakton advanced to the state playoffs. The Cougars will host L.C. Bird at 4 p.m. on Saturday, Dec. 1 in the semifinals. L.C. Bird, the Central Region champion, is undefeated.