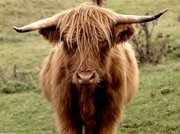 Fairfax County Animal Control officers are used to dealing with dogs, cats, skunks, raccoons and other critters. But it's not every day they're called upon to capture a cow on the run.
Yet that's what happened last week when they responded to a report of a cow running loose near the Colonnade at Union Mill shopping center on Union Mill Road in Centreville.
The cow turned out to be a Scottish Highland breed that had escaped from a farm on Winfield Road in Fairfax on Thursday, July 11. It had been loose for a few days. Besides being hot because of its shaggy coat and the 90-degrees-plus weather, it was pregnant and aggressive. So officers were warned it might attack if cornered.
"It had escaped from the farm through a gate and was very frightened," said police spokeswoman Lucy Caldwell. "It was getting a visit from the vet when it fled." She didn't know the animal's weight or if it had a name, describing the bovine only as a "young, adult female."
Once the cow was on the loose, police received numerous calls of sightings and encounters in the days that followed. It was seen on New Braddock and Union Mill roads, Union Village Drive, Union Village Circle and Sequoia Lea Drive. Both Animal Control officers and patrol officers were involved in the pursuit. They tried to subdue the animal with tranquilizer darts, but several attempts to corral the orange-and-brown-horned cow were unsuccessful.
"It had escaped from the farm through a gate and was very frightened."

--Police spokeswoman Lucy Caldwell
Finally, on Saturday, July 13, around 9:15 p.m., officers spotted a "mooving" object coming out of the woods near Union Mill Road. The cow allegedly charged the officers and fled through neighborhood yards. But officers gave chase and were eventually able to tranquilize the cow.
Police say a female veterinarian who'd responded to help the officers was injured during the animal's apprehension and was later treated for non-life-threatening wounds. The cow was not injured. The investigation is continuing and police say possible charges against the owners are pending.