While the Virginia governor's race is the one getting the most attention, both nationally and in the state, Virginia's House of Delegates race is shaping up to be the most competitive in a decade.
According to an official candidate list released last week by the Virginia State Board of Elections, 57 House seats will be contested this November—marking only the second time in the last decade where at least half of the 100 House seats will have more than one name on the ballot.
2013 is the second election cycle since the House Republican leadership redrew district boundaries following the 2010 Census. In 2011, voters in nearly two-thirds of the 100 House districts had no choice on the ballot.
Of the 57 contested races, 44 include races with at least one Republican and one Democrat, and most of the two-party races on the ballot will take place in Northern Virginia (see chart.)
Throughout the state, 43 of the 100 House districts are uncontested, meaning there is only a single candidate on the ballot. Delegates Ken Plum (D-36) and Charniele Herring (D-43) are the only uncontested candidates in Fairfax County.
Republicans enter the election with a commanding 67-32 margin over the Democrats, although there are nearly three times as many Democrats challenging incumbent Republicans from two years ago. In June 2011, according to the Virginia Public Access Project, about 15 percent of the 100 House of Delegates seats were being contested between a Democrat and a Republican.
Each member of the Virginia House of Delegates serves two-year terms, represents approximately 80,000 citizens and receives an annual salary of $17,640. By contrast, the Virginia Senate consists of 40 members. Each member is elected for a term of four years and receives an annual salary of $18,000. A senator represents approximately 200,000 citizens of the commonwealth. The Virginia General Assembly meets annually, beginning on the second Wednesday in January, for 60 days in even-numbered years and for 30 days in odd-numbered years, with an option to extend annual sessions for a maximum of 30 days.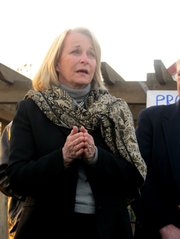 The Senate of Virginia and the Virginia House of Delegates, both bodies of the Virginia Legislature, meet in the historic capitol building in Richmond. For more information on the state legislature, go to virginiageneralassembly.gov.
Local Races With Major Party Challengers

*District 34—Democrat Kathleen Murphy challenges Republican incumbent Barbara Comstock.

*District 35—Republican Leiann Leppin challenges Democratic incumbent Mark Keam.

*District 37—Republican Patrice Winter challenges Democratic incumbent David Bulova.

*District 39—Republican Joe Bury challenges Democratic incumbent Vivian Watts.

*District 40—Democrat Jerrold Foltz challenges Republican incumbent Tim Hugo.

*District 41—Republican Fredy Burgos and Independent Christopher DeCarolo challenge Democratic incumbent Eileen Filler-Corn.

*District 42—Democrat Ed Deitsch challenges Republican incumbent Dave Albo.

Local Races With Third-Party Challengers

*District 38—Jim Leslie challenges Democratic incumbent Kaye Kory.

*District 43—Glenda Gail Parker challenges Democratic incumbent Mark Sickles.

*District 44—Joe Glean challenges Democratic incumbent Scott Surovell.

*District 45—Jeff Engle challenges Democratic incumbent Rob Krupicka.

*District 47—Laura Delhomme challenges Democratic incumbent Patrick Hope.

*District 48—Lindsey Bolton challenges Democratic incumbent Bob Brink.

*District 49—Terry Modglin challenges Democratic incumbent Alfonso Lopez.

Local Uncontested Races

*District 36—Democratic incumbent Ken Plum

*District 46—Democratic incumbent Charniele Herring