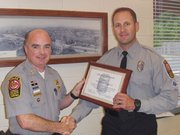 Centreville — An 18-year veteran of the Fairfax County Police Department, MPO Mike Gubesch is the Sully District Station's Officer of the Month for June. And he was honored recently at a meeting of the station's Citizens Advisory Committee.
"Each month we honor one of our 105 officers for superior service, above and beyond the call of duty," said Capt. Ed O'Carroll, the station commander. "Mike was on the K-9 squad for nearly 11 years and we were lucky to have him come to patrol here after leaving special ops. He's a superior leader here at the station."
In his write-up nominating Gubesch for the honor, Lt. Rich Morvillo, the station's assistant commander, recounted a particular incident that reflected the type of person and officer Gubesch is. It dealt with a call he responded to about a person who was threatening suicide by overdosing on prescription pills and drinking alcohol.
Gubesch met with her and began a conversation. While doing so, he noted possible medical issues she might have due to the intoxicants she'd consumed, and he convinced her to go to the hospital voluntarily for treatment.
"While at the hospital, Gubesch found that [she] attempted to leave before treatment was completed; and, again, he convinced her to comply," wrote Morvillo. He also explained that, although she'd denied being suicidal, based on the trust she'd established with Gubesch, she was able to open up and share with him the problems that made her consider taking her own life.
After the woman was medically cleared, the officer contacted a member of her family to come get her and also made sure that her child was picked up from daycare. Wrote Morvillo: "MPO Gubesch's actions serve as a great example for other officers as to their role as community caretakers, as well as enforcement officers."
Proud of the way Gubesch handled that case, O'Carroll added, "Mike connected all the dots in getting this woman to medical treatment." He also gave another example of Gubesch's character.
"On April 20 at 4 a.m., we were at the roll-call table when we got a call about a sexual assault that had happened around 3:30 a.m. in the Bent Tree Apartments [in Centreville]," said O'Carroll. "I'd had 50 officers that night working drunk-driving enforcement, and they all wanted to go home to sleep. But one officer put his uniform back on, asked for his car back and raced to the scene — MPO Gubesch. He cares, and his compassion, among other things, makes him our Officer of the Month for June."
Receiving a certificate honoring him, Gubesch said, "I'm proud to be here at Sully." Telling the audience he spends most of his time in Clifton, he added, "I like talking to people; so if you see me, come up and say hi."