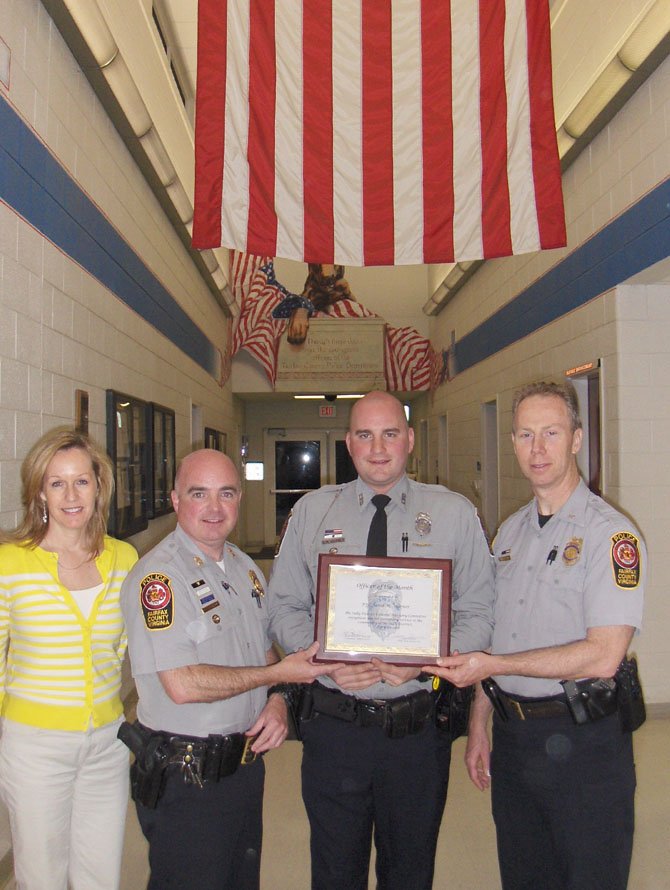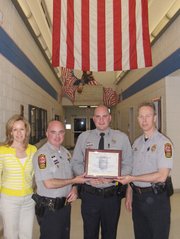 PFC Jared Warner is the Sully District Police Station's Officer of the Month. He was honored at the April 10 meeting of the station's Citizens Advisory committee.
Using the comments from several supervisors, Lt. Rich Morvillo, assistant station commander, explained why Warner was selected. Warner first came to that station when he joined the Fairfax County Police Department in 2008.
He's currently assigned to the traffic-enforcement team. His duties entail placement of the electronic messaging board and posting of the electronic radar survey trailer, plus enforcement of parking and traffic infractions.
"This April, we recognize PFC Warner's outstanding work for two, separate incidents which occurred within a short time period," wrote Morvillo. "He stopped two vehicles on simple traffic charges and uncovered drugs and guns in each case."
On one of those occasions, Warner pulled over a vehicle for running a red light. As he spoke with the driver, he immediately detected the odors of alcohol and marijuana emanating from the driver and vehicle. He also saw an assault rifle in the back seat.

Continuing to investigate, Warner eventually discovered additional marijuana, as well as drug paraphernalia, a handgun and ammunition in the car. He arrested the driver and took him to the county's Adult Detention Center.
In the other incident, Warner stopped a vehicle without a valid, state- inspection sticker. He again detected the odor of marijuana coming from the car, conducted a search of the vehicle and driver, and discovered marijuana and a handgun that was reportedly stolen. This matter is still under investigation until warrants are obtained.
"PFC Warner should be commended for being proactive and going beyond the simple traffic stop to take dangerous narcotics and weapons off the streets of Fairfax County," wrote Morvillo. "He's a dedicated traffic officer who always has to be on guard because he never knows what he'll find."