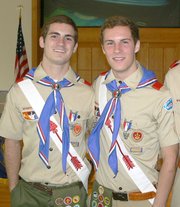 Andrew and Jonathan Lohmann, members of Boy Scout Troop 51, celebrated receiving their Eagle Scout award on June 9 at an Eagle Court of Honor ceremony at Floris United Methodist Church in Herndon.
Andrew earned his Eagle status on Oct. 20, 2010, exactly 78 years after his paternal grandfather, Ralph G. Lohmann earned his Eagle rank. For his Eagle project, Andrew coordinated and held a Community Blood Drive in cooperation with Inova Blood Donor Services. During the one day event, 53 units of blood were collected to help fill the reserves for area hospitals, earning Andrew special recognition from the Inova medical team.
Last fall, Jonathan completed requirements for his Eagle rank with a two day "Feed the Hungry" Community Food Drive coordinated through Community of Faith United Methodist Church in Herndon. Fifty scouts and adult participants helped collect over two tons of food that were organized and stored for use by the church to prepare weekly meals for local families in need.
Andrew just completed his first year at Rensselaer Polytechnic Institute earning Dean's List honors for the Engineering School and will be continuing his engineering studies at Virginia Tech in the fall, while Jonathan will be attending Lynchburg College to study physics and pre-engineering. Both are graduates of Oakton High School.