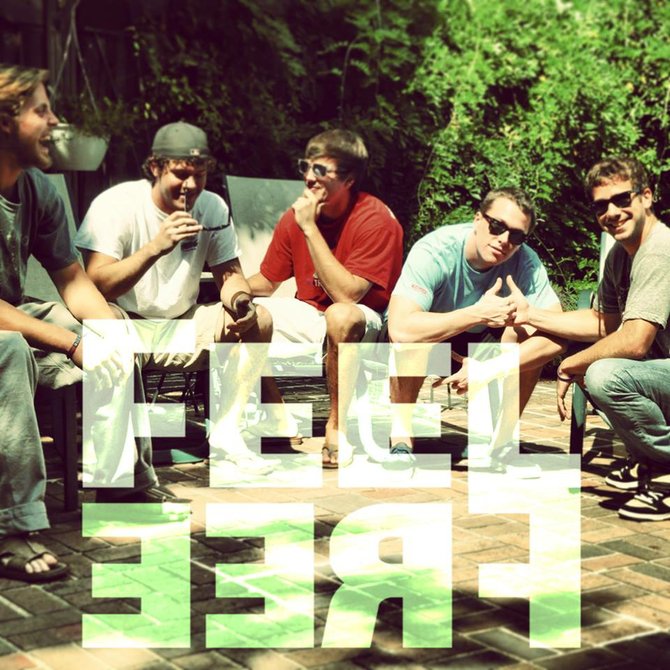 A shared appreciation for the blues has morphed into an increasingly successful reggae band with enough popularity to literally take their show on the road.
FeelFree, a group of five 20-something men from Alexandria, mostly T.C. Williams graduates, last week kicked off their first East Coast tour, which will take them from this area up to New York City and down to North Carolina, with a stop in Charlottesville along the way.
"We're leaving right after every show," said Evan Hulehan, who sings and plays guitar and keyboard for the band. "We have a U-Haul and Jeep" to move them from city to city.
Luckily, the band laughs, they have friends along the way who will let them stop in and take showers and rest for a few minutes between shows.
The band got their start at TC, when Hulehan teamed up with Andrew Pfeiffer, another guitarist and vocalist who also plays trombone, and drummer Bryan Frank, but the band didn't start as a reggae group.
"Back then, we were just learning our instruments," Hulehan said. "We started with AC/DC covers. Maybe by sophomore year, we were into the blues along with Stevie Ray Vaughan, Jimi Hendrix, more bluesy than hard rock."
Transitioning to reggae "rejuvenated everybody," he added.
"I heard one slow jam and I fell in love with that, and I fell in love with reggae," said Frank.
Two other members, Garrett Clausen on bass and Colin Canfil on trumpet, joined the group later, and while they've gone off to college and the workforce, they insist the band will be their primary focus as of next summer, when college is over for all of them, Pfeiffer said.
The band's been excited for their opportunity to hit the road, traveling to Kill Devil Hills and Wilmington, N.C. later this week before a show in Charlottesville. Their next show in this area is Friday, Aug. 2, at Jammin' Java in Vienna.
"We started playing at open mic nights in Old Town, like at O'Shaughnessy's and the Light Horse," Hulehan said. Playing Sullivan Hall in Manhattan is quite a change.
The guys recognize there's a shortage of, well, white guys from North America playing reggae, but they embrace their position and hope it brings them some attention.
"There aren't a lot of white reggae bands popping up," he laughed. Their presence has raised eyebrows, but it's also won over fans.
The hope is for a similar reaction from the crowds in cities where the audience isn't made up of friends and family, with people coming up to the band and talking with them about how much they've enjoyed their music, Pfeiffer said.
It was difficult booking the tour, because the band hasn't played outside the D.C. region before, but after "calling and re-calling," the handful of venues in New York City and North Carolina came through and offered them opportunities, he said. And they were fortunate enough that all of their jobs gave them the 10 days they needed to be on the road.
That's not to say the band isn't known outside this area.
"There's a guy in Venezuela who is doing artwork for us," Pfeiffer said.
Still, going on the road is exciting, said Canfil. "I'm excited to see people who haven't seen us before. When someone says your show is awesome, that's a good feeling."