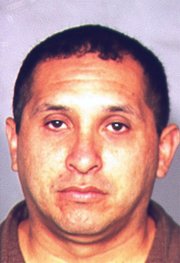 Believing he took sexual advantage of helpless, unconscious women, Fairfax County police have charged a former Alexandria and Lorton resident with rape and aggravated sexual battery. He is Joseph Michael Rivera, 34, although many in the local area knew him by his professional name of DJ Joey Flash.
Rivera worked as a private deejay at parties around the region and also hosted bartending competitions. But police believe he left the area in June after they started looking into his activities. Once they learned of his whereabouts in Las Vegas, Nev., police contacted authorities there and had him arrested and held for extradition to Fairfax County.
Besides the other offenses, Rivera is also being charged with animate sexual object penetration and two counts of unlawful filming. Det. Brian Byerson, of the Sex Crimes Section of the Criminal Investigations Bureau, explained the case against him in a search warrant he wrote on May 13.
In it, he sought permission to search for evidence of Rivera's alleged criminal activities within several electronic devices that Alexandria City Police had confiscated while executing their own search warrant in Rivera's former home at 724 Four Mile Road in Alexandria.
Byerson stated that, on May 3, Alexandria Det. Betty Sixsmith contacted him regarding an active investigation into some films and photographs depicting alleged sexual assaults of unconscious females and reportedly taken by Rivera. Byerson then reviewed the photographs and video that, he wrote, "appear to depict acts of rape and sexual assault on female victims that appear to be unconscious."
Furthermore, wrote Byerson, "Det. Sixsmith advised [me] that she interviewed Rivera and he [allegedly] confessed to taking the photographs and video at the center of this investigation." He also noted that, to this day, the females in them "are unaware" that they were photographed and filmed.
"These videos and photographs were produced and stored on electronic devices," wrote Byerson. "Rivera further stated some of the videos and photographs were taken at his residence during the time he lived [on] Station House Court [in] Lorton between November 2011 and December 2012."
After viewing these photos and videos, Byerson wrote that he was "able to identify the [alleged] victims in the events that occurred" in Lorton. "Subsequent interviews with these [alleged] victims confirmed that Rivera did not have permission to engage in any form of sexual activity with [them] and that [they] were not aware of the event or that any photographs or video were taken of them," wrote the detective.
The items Byerson wished to examine included computers, floppy disks, an iPod, hard drives, a digital camera, five cell phones and a BlackBerry. In addition, he wrote, "This search warrant further requests permission for the Fairfax County Police Department's Computer Forensics Section, or other designate, to examine the specific articles seized … for data relevant to this investigation."
Byerson obtained the warrant he sought and executed it May 13 at 5 p.m. But the investigation is far from over.
Detectives from the Adult Sex Crimes Unit haven't been able to identify all the women in the films and photos, and they say the incidents "may go back several years." These detectives are available to speak with any of the alleged victims at 703-246-7830.
Anyone with information about Rivera or any of these alleged incidents may also contact Crime solvers at 1-866-411-TIPS/8477, e-mail www.fairfaxcrimesolvers.org, text "TIP187" plus a message to CRIMES/274637 or call police at 703-691-2131.