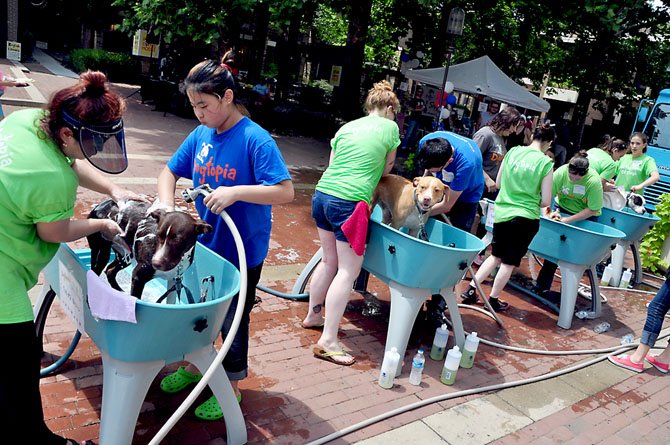 Reston — Trina Shaughnessy was with her dog Macro on their usual Sunday afternoon walk on North Shore Drive last weekend, when she heard an unmistakable sound coming from Lake Anne Plaza.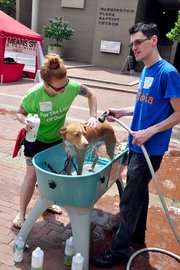 "It was an avalanche of dogs barking, like dozens of them were there, and I figured we just had to investigate," she said. "Macro is usually pretty good around other dogs, but I think he was a little hesitant given all the commotion. But he got a bath out of it."
Macro got a bath as part of Dogtopia's ninth annual charity dog wash, which took place at Lake Anne for the first time. Dogtopia is a dog daycare, boarding and grooming company with several locations in Northern Virginia.

"We have locations in Tysons and Herndon, and we usually have our wash events in stores, but thought this was a good way to get outside in a place that was between the two," said Amy Nichols, CEO of Dogtopia, who opened the first location in Tysons in 2002.
The proceeds from Sunday's wash went to organizations such as America's Vet Dogs and Veterans Moving Forward, which provide service dogs to veterans facing physical and mental health challenges upon their return.
"We first got involved with serving the military by sending toys and treats to dogs stationed overseas, and we were able to send around 50,000 pounds of them over the years," Nichols said.
"Now that more and more soldiers are coming home, we felt it was time to start supporting these veterans." The dogs in Veterans Moving Forward are fostered and trained for 18 months to two years before they are teamed up with a service member, at a cost of around $12,000 per dog.
"Our customers know the power of having a dog in your life, so I think they can identify with what these dogs can do for these men and women," Nichols said. "Dogs are a way to keep people grounded in reality, and they really take care of the people they're with."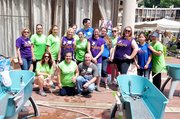 Nichols said they were hoping to wash 100 dogs during the day, and by the halfway point they had given 70 dogs a bath, shampoo, towel dry and patriotic bandana. Staff members and other volunteers did the washing, as well as branching out to the nearby dog park at Baron Cameron Park.
"I was at the dog park when someone came by with flyers about the dog wash, which was very smart of them," said Justine Shaw of Reston. "My dog had just spent 20 minutes running around in the dirt and grass, so she could use a bath, especially for a good cause."
This was the ninth year Dogtopia has hosted a local wash, but the first year they declared "National Wash Your Dog Day," with washes at all of their locations around the country. More information on Veterans Moving Forward can be found at www.vetsfwd.org.