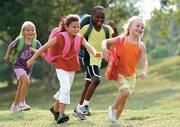 Centreville — It may seem early to think about returning to school, but Western Fairfax Christian Ministries (WFCM) is already busy collecting backpacks for local students attending 23 elementary, middle and high schools.
"These backpacks are given to students whose parents can't afford all the school supplies it takes to send a child to school, let alone backpacks," said Jennie Bush, WFCM's community outreach manager. "Often, these families must decide between putting food on the table and gasoline in the car."
So WFCM has partnered with Collect for Kids, Fairfax County Public Schools, and Kids are First to help these students. Kids R First provides the school supplies needed at each grade level, and WFCM contributes the new backpacks.
But with so many families these days having a tough time making ends meet, said Bush, "Help is needed more than ever before and we're counting on the community, local businesses and churches to support our efforts to provide backpacks for these students in need."
The backpacks are given at no cost to students receiving free or reduced-cost lunches. This year, the local elementary schools have asked for a total of 822 backpacks; the middle schools need 235 and the high schools have requested nearly 700 for a total of 1,682 backpacks needed for this school year.
"The need is greatest for larger sizes with multiple compartments," said Bush. "The elementary schools have asked for midsize backpacks for students in grades K through three, and standard 17-inch backpacks for students in grades four, five and six. All elementary-sized backpacks must hold a large binder and books, so the counselors don't want any small backpacks."
Middle-school students need the 17-inch or larger backpacks, with two or more compartments. And high-school students need the larger 18-inch backpacks, also with compartments. All backpacks donated should be new and without wheels.

WFCM's website contains further information on buying guidelines, as well as links and/or suggestions about where these backpacks may be purchased. See www.wfcmva.org for details.
WFCM's backpack collection will run through Aug. 16. All backpack donations are tax-deductible, and WFCM will give a receipt to each contributor to use for tax purposes.

Backpacks may be dropped off at the WFCM Thrift Store, Tuesday through Saturday, from 10 a.m.-4 p.m. Mention that the backpacks are for the FCPS school backpack collection. The Thrift Store is at 13939 Metrotech Dirve in Chantilly, near Lotte Market and the Goodyear tire store.
"We're really hoping people in the community will help WFCM meet the huge demand this year for backpacks," said Bush. "And we thank everyone in advance for supporting the students in our community as they get ready to go back to school."